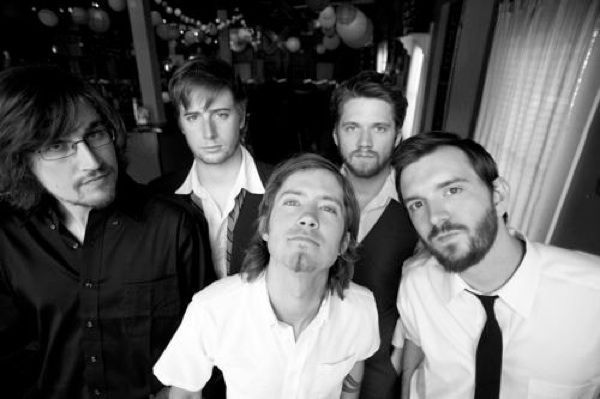 Moon Taxi is one of those rare bands that unites musical ingenuity with thoughtful lyrics and still somehow manages to wildly entertain and thrill a crowd. Their new record, Cabaret, is a layered, multi-dimensional endeavor that displays the band's maturing sense of their own musical identity. A follow-up to their live album, Live Ride, Cabaret illustrates the challenges of defining yourself in a world that seems to be suffering from its own identity loss. Lead singer Trevor Terndrup says, "It's about juxtaposition-putting together seemingly opposite ideas and finding a strange harmony." Inspired by surrealist artwork and novelist Tom Robbins, Terndrup says, "I guess we are trying to say that things are not so black and white, or good or evil, but relative to your own perspective."

Evoking the musical revolution of the sixties and seventies, Moon Taxi ignites their eclectic sound with unique melodies and energetic shows. The band has already formed a loyal fan base across the Southeast, selling out clubs and creating a strong grassroots following. Keyboardist Wes Bailey says, "It's an incredible feeling to see people who we've never met before in a town we've never played before, dancing and singing our lyrics at the top of their lungs. That's what really gets us off."

The songs on Cabaret are stories in themselves, each contributing to the continuing narrative of ideals lost to youth and also newly discovered for the future-both of revelry and social-consciousness. On "Hideaway", an anti-war protest is heard in the background. The chant was recorded on the spur of the moment when Trevor and guitarist Spencer Thomson followed an anti-Middle Eastern occupation march during a trip to New York City. Spencer opened his laptop to capture the moment, and the use of the chant, he says, shows the band's hip-hop influences. Songs such as "Southern Trance", "Whiskey Sunset", and "Cabaret", perpetuate youthful visions of campfires, torn jeans, and a good roll in the hay with the cutest stranger at the party. Spencer says about the variety of their songs, "Moon Taxi is unique because we don't have preconceived notions about who we are supposed to be so there are no boundaries for what we are willing to do or try."

Inspired by artists who push the envelope, such as minimalist composer Phillip Glass, Director Quentin Tarintino, and bands like The Beatles and Radiohead, Moon Taxi's study of the greats is apparent on Cabaret. The record was recorded at Alex The Great in Nashville, where others such as Gomez, Yo La Tengo, and Be Your Own Pet have also sojourned. Cabaret was impressively produced by the band's guitarist Spencer Thomson and Hank Sullivant (Whigs, MGMT, Kuroma), mixed by Grammy award winning sound engineer Vance Powell (Raconteurs), and features folk/hip-hop artist Matisyahu, who the band has also opened for, on the track "Square Circles".

The band has worked hard to develop their well-executed stage presence. Drummer Tyler Ritter says, "What's great about our touring resume is that we've been able to create an interactive dynamic between the five of us that doesn't take away from the songs, but ultimately adds to a more energetic and (dare I say) 'high octane' live show. We constantly keep our eyes and ears open onstage, so we can change direction if we need to. It's like a really intense conversation with your best friend at 2am, after several drinks, where every topic in the world is up for discussion, and you both have to be quick on your feet to follow each other's train of thought." Equally important as the practice of performing regularly, the guys have also shared life experiences that strengthen their sound and camaraderie. Tom Putnam (bassist) says, "Even experiences that weren't directly recorded, (like the rally in NYC, or the lobby hotel sounds in Mississippi), influence our writing, like riding in a Lamborghini at 150 miles an hour with a drug dealer in Memphis, or when we were en route to St. Louis and watched the sky turned dark brown with tornadic winds and hail. Everyone in the band thought for a second we would die, and if they tell you different, ask Tyler for the video. That stuff changes you and your art." It is the willingness to change and constantly evolve that will carry Moon Taxi through many records, and a long and successful career as a band.

Moon Taxi Band from Nashville, Tennessee is a high energy Jam band that plays Funk, Southern and Classic Rock, Groove and other types of music. This band is perfect for Festivals, Fraternity Parties, College Parties, Fundraisers and other events. For booking Moon Taxi, call Music Garden today at 800-689-BAND(2263) or email by clicking the more information tab on this page.
Songlist
- Not Available Online - Contact Us for Song List