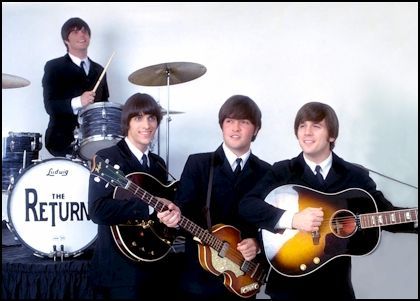 Considered talented enough to perform in front of a national audience, THE RETURN caught the eye of Good Morning America's weatherman, Tony Perkins, as well as executives for the morning show. Since then, this amazing group of four young musicians has continued to excite crowds all over the country, growing substantially in popularity.

Part of what makes a RETURN show so enthralling is the way in which they have so meticulously recreated the complete Beatle image on stage. The boys feature authentic vintage instruments, haircuts, and custom made clothes and boots. Their unmistakable Liverpool accents and Beatlesque antics truly bring out the charming, charismatic personas of the original four lads we all adore. In being true to the original Fab Four, THE RETURN derives their song list from a specific part of the Beatles catalog, primarily performing material that the Beatles played in live concert settings. This long and wonderful list of songs spans material from the early cover songs they played at Liverpool's Cavern Club, to Lennon-McCartney numbers performed on the last Beatles tour of America in 1966.

Return Band from Atlanta, Georgia is a Beatles Tribute band that plays Beatles songs along with some other similar songs of the same genre. This band is perfect for Fraternity Parties, Sorority Parties, Nightclubs, Festivals, Concerts and other events. For booking The Return,call Music Garden today at 800-689-BAND(2263)or to email, click the more information tab on this page.
Songlist
A Hard Day's NightAct NaturallyAll My LovingAnd I Love HerAnd Your Bird Can SingAnother GirlAnytime At AllBaby's In BlackBack In The USSRBad BoyBesame MuchoBirthdayBoysCan't Buy Me LoveDay TripperDizzy Miss LizzieDo You Want To Know A SecretDrive My CarEight Days A WeekEverybody's Trying To Be My BabyFrom Me To YouHelp!Here, There, & EverywhereHippy Hippy ShakeHoney Don'tI Call Your NameI Don't Want To Spoil The PartyI Feel FineI Got A WomanI Saw Her Standing ThereI Should Have Known BetterI Wanna Be Your ManI Want To Hold Your HandI'll Cry InsteadI'll Follow The SunI'm DownI'm Gonna Sit Right Down And CryI'm Happy Just To Dance With YouI'm Talking About YouIf I FellIf I Needed SomeoneIn My LifeIt Won't Be LongKansas City/Hey Hey Hey Hey!Leave My Kitten AloneLong Tall SallyLove Me DoLucilleMatchboxMichelleMoneyNo ReplyNorwegian WoodNowhere ManOne After 909Ooh! My SoulPaperback WriterPlease Mr. PostmanPlease Please MeRock And Roll MusicRoll Over BeethovenSessionShe Loves YouShe Said She SaidShe's A WomanShoutSlow DownSome Other GuyTaxmanTell Me WhyThank You GirlThe Night BeforeThere's A PlaceThings We Said TodayThis BoyTicket To RideTill There Was YouTo Know Her is to Love HerTwist & ShoutWaitWe Can Work It OutYellow SubmarineYesterdayYou Can't Do ThatYou Really Got A Hold On MeYou're Gonna Lose That GirlYou've Got To Hide Your Love Away
reviews
It was quite fun to watch them and imagine what it must have been like at an actual Beatles Concert all those years ago!
Tony Perkins-Good Morning America
These are moments when it's hard to believe you are not watching the Beatles!
Creative Loafing-Atlanta, GA
"The Beatles live-thanks to The Return!"
Turner Broadcasting
Demo Reels
View Bands with Similar Styles