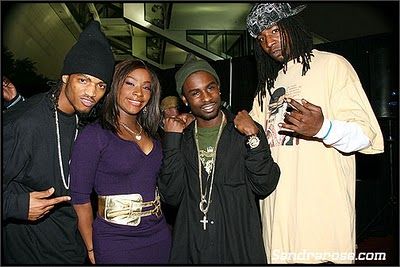 Atlanta natives, Crime Mob helped define the word "Crunk" with their club bangers "Knuck If you Buck," "Rock Yo Hips," & "Stilettos." The group members Princess, M.I.G., Lil Jay, & Ski Mask have reemerged on the scene to bring audiences that Southern Crunk-Hop they've been missing. For booking Crime Mob Call Music Garden at 800-689-2263 or email us today!

Crime Mob is an American hip hop group from Atlanta consisting of six members: M.I.G., Cyco Black, Princess, Lil' Jay, Diamond, and Killa C. After an arrest in 2003, member Killa C left the group.

The band first got their break when major label rap artist Lil Scrappy saw them perform at a local Atlanta club. After being signed, they released their debut single 'Knuck If You Buck'. Shortly after that, they dropped their self-titled debut, which sold 270,000 copies with limited promotion. Their first single of 2007 single, "Rock Yo Hips", is from their second album Hated On Mostly. The video for "Rock Yo Hips" depicts a fictional Crime Mob College, set to resemble a historically black college.
View Bands with Similar Styles