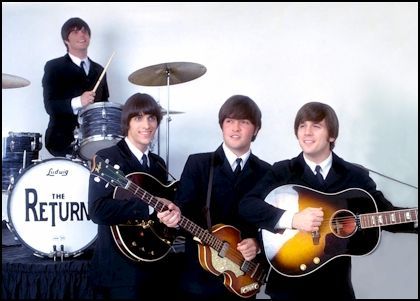 The Return(a Beatles Tribute Band) Considered talented enough to perform in front of a national audience, THE RETURN caught the eye of Good Morning America's weatherman, Tony Perkins, as well as executives for the morning show. Since then, this amazing group of four young musicians has continued to excite crowds all over the country, growing substantially in popularity.

Part of what makes a RETURN show so enthralling is the way in which they have so meticulously recreated the complete Beatle image on stage. The boys feature authentic vintage instruments, haircuts, and custom made clothes and boots. Their unmistakable Liverpool accents and Beatlesque antics truly bring out the charming, charismatic personas of the original four lads we all adore. In being true to the original Fab Four, THE RETURN derives their song list from a specific part of the Beatles catalog, primarily performing material that the Beatles played in live concert settings. This long and wonderful list of songs spans material from the early cover songs they played at Liverpool's Cavern Club, to Lennon-McCartney numbers performed on the last Beatles tour of America in 1966.

Return Band from Atlanta, Georgia is a Beatles Tribute band that plays Beatles songs along with some other similar songs of the same genre. This band is perfect for Company Holiday Parties, Corporate Christmas Parties, Association Events, Conventions, Fundraisers, Galas, Balls and other private parties and other events. Call or email Music Garden today at 800-689-BAND(2263).

BIO
The Return got its start back in 1995 when four young friends got together to play their favorite Beatles songs just for the fun of it. It wasn't long before they played in front of an audience at the request of a friend and as it turned out, were very well received. That show—which was supposed to be a one time thing--led to another gig, which led to another and so on until the band found themselves playing on a regular basis. They decided to go ahead and make it official. They named themselves the Roaches.

As time went on, they began to polish up their act a bit and became fixated on the idea of striving for the highest level of authenticity possible. They wanted to recreate the early sixties Beatles concert experience from the tiniest detail (John Lennon's on-stage gum-chewing) to the biggest, most expensive details (using exact replicas of the instruments and gear the Beatles used). While they were learning to comb their moptops just right and finding the right Beatle boots and black suits to wear, they were also learning each song note for note, rhythm for rhythm—getting the signature moves and 'looks' of the Fab Four down pat, too. They practiced relentlessly--with a growing passion for getting their show just right. In the years that followed a few members came and went, and the band took on a more professional presence. They got an agent, changed their name to the Return, and began to command the attention of more widely renowned clients not only in the United States, but in multiple other countries as well—including England.

"They are known as one of the best Beatles cover bands in the country for a reason, and it was evident from our fans' reaction to hearing them play." ­— Scott Cunningham ~ Director of Entertainment ~ Atlanta Braves

Today the band still strives to maintain the utmost level of authenticity in their show. In fact, they are known for it. They've played thousands of shows—theatres, festivals, fairs, casinos, cruise ships, colleges and universities, weddings, birthday parties, bar mitzvahs--as well as countless corporate events for companies like Coca Cola, ABC, Hard Rock Cafe, and Volkswagen International--and the reaction is the same every time. People are amazed at how much the Return sounds and looks just like the Beatles.
Songlist
A Hard Day's Night

Act Naturally

All My Loving

And I Love Her

And Your Bird Can Sing

Another Girl

Anytime At All

Baby's In Black

Back In The USSR

Bad Boy

Besame Mucho

Birthday

Boys

Can't Buy Me Love

Day Tripper

Dizzy Miss Lizzie

Do You Want To Know A Secret

Drive My Car

Eight Days A Week

Everybody's Trying To Be My Baby

From Me To You

Help!

Here, There, & Everywhere

Hippy Hippy Shake

Honey Don't

I Call Your Name

I Don't Want To Spoil The Party

I Feel Fine

I Got A Woman

I Saw Her Standing There

I Should Have Known Better

I Wanna Be Your Man

I Want To Hold Your Hand

I'll Cry Instead

I'll Follow The Sun

I'm Down

I'm Gonna Sit Right Down And Cry

I'm Happy Just To Dance With You

I'm Talking About You

If I Fell

If I Needed Someone

In My Life

It Won't Be Long

Kansas City/Hey Hey Hey Hey!

Leave My Kitten Alone

Long Tall Sally

Love Me Do

Lucille

Matchbox

Michelle

Money

No Reply

Norwegian Wood

Nowhere Man

One After 909

Ooh! My Soul

Paperback Writer

Please Mr. Postman

Please Please Me

Rock And Roll Music

Roll Over Beethoven

Session

She Loves You

She Said She Said

She's A Woman

Shout

Slow Down

Some Other Guy

Taxman

Tell Me Why

Thank You Girl

The Night Before

There's A Place

Things We Said Today

This Boy

Ticket To Ride

Till There Was You

To Know Her is to Love Her

Twist & Shout

Wait

We Can Work It Out

Yellow Submarine

Yesterday

You Can't Do That

You Really Got A Hold On Me

You're Gonna Lose That Girl

You've Got To Hide Your Love Away
reviews
It was quite fun to watch them and imagine what it must have been like at an actual Beatles Concert all those years ago!
Tony Perkins-Good Morning America
These are moments when it's hard to believe you are not watching the Beatles!
Creative Loafing-Atlanta, GA
"The Beatles live-thanks to The Return!"
Turner Broadcasting
Demo Reels
View Bands with Similar Styles