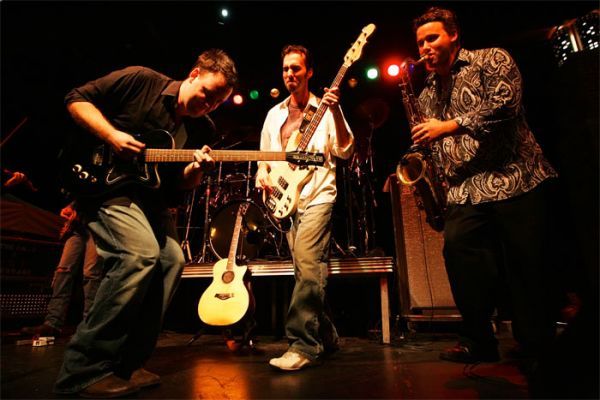 Their name says it all: The Dave Matthews Tribute Band. Many go to their live shows with reservations, high expectations, and the burning question, "Do these guys sound like the real Dave Matthews Band?" Almost always the answer is, "Yes!"

As Rick Grant of Entertaining U in Jacksonville, FL wrote, "The Dave Matthews Tribute Band turned out to exceed its billing as a quality improvisational band that uses Dave Matthews material as themes to improvise. Clearly, this distinguishes them from the other so-called tribute bands. The band is exceptionally tight and produces a solid groove over which the players improvise with hot chops." This is a great Tennessee cover band.

The Dave Matthews Tribute Band has worked hard to bring musical expertise and an energetic stage presence to remake and provide fans with a true 'DMB experience'. "The whole basis of the band is to put on a musical play," says Clifford. "We try to recreate the experience you may get from the real band."

While most fans never experienced a live DMB show before they became the platinum-selling artists they are today, the Dave Matthews Tribute Band prides itself on giving audiences this opportunity at intimate venues across the country. Beyond mastering the DMB sound and the relentless touring, what separates the Dave Matthews Tribute Band from other cover bands is their passion, love, and respect for DMB and their music. That is what makes you come out of one of their shows saying, "Yeah, they really do sound like the real Dave Matthews Band."

Dave Matthews Tribute Band from Chattanooga, Tennessee is a Dave Matthews Tribute band that plays Dave Matthews songs along with some other similar songs of the same genre. This band is perfect for Fraternity Parties, Sorority Parties, Nightclubs, Festivals, Concerts and other events. Call or email Music Garden today at 800-689-BAND(2263).
Songlist
- Not Available Online - Contact Us for Song List
View Bands with Similar Styles