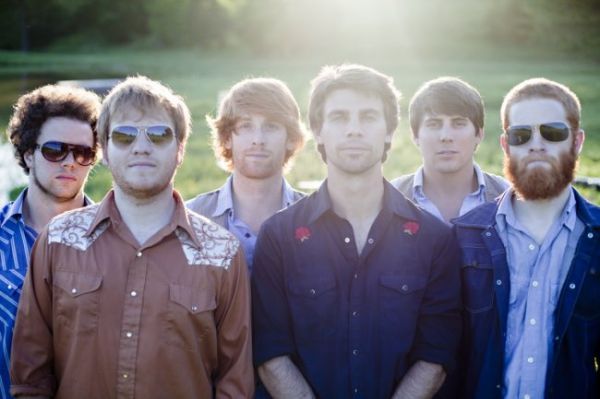 "Youth may be in their blood, but tradition guides their instincts", reveals M! Music & Musicians Magazine. "The Dirty Guv'nahs are wise in the ways of rock and roll beyond their tender years." One thing is for sure the swell of grassroots momentum for this 6-piece rock outfit has generated considerable buzz up and down the east coast recently. Their live shows are selling out venues and theatres from New York City to Florida, where fans pack in to experience a full-bore musical energy characteristic of The Avett Brothers, early Black Crowes, and The Rolling Stones.

The group's unlikely genesis took place in their beloved hometown of Knoxville, Tenn. where the community has subsequently elected "The Guvs" as the "Best Band In Knoxville" for 4 years running. Comprised mostly of young graduate students, The Guvs had meager aspirations to simply play the kind of music they loved roots rock and roll which had all but disappeared from the scene at the time. Their hobby turned into a more serious profession, however, when they gained the attention of the Grammy-award- winning team at Levon Helm studios. In 2010, the band recorded their most recent album Youth Is In Our Blood in Levon's famous barn, and they haven't looked back since. Touring to support their music has brought The Guvs to festivals such as Bonnaroo, Wakarusa, and SXSW. They have also played with a variety of major acts, including Train, Zac Brown Band, Grace Potter and the Nocturnals, Dr. Dog, Levon Helm Band, Blues Traveler, Robert Earl Keen, Drive-By Truckers, Taj Mahal, The Whigs, and Sister Hazel.

The Guvs' sound, which has been described as "a passionate, jubilant slice of rock meets Americana," is accomplished through a sturdy foundation of gritty guitar tones and tight rhythms, accented with smooth harmonies, crunchy Hammond organ, bluesy piano and vigorous lead guitar solos. The soulful melodies and catchy choruses come courtesy of the band's front man, James Trimble, who has drawn comparisons to Jagger, Morrison, and Springsteen in terms of both voice and energy. The finished delivery is a "must see live act" that was accurately described by a recent review in Nashville's Music Connection Magazine "The Dirty Guv'nahs possess a vintage zest that's simple enough to attract a variety of listeners, yet a sound mature enough to capture a grizzled industry veteran. This band doesn't just play music; they capture the human spirit through song."

For booking The Dirty Guv'nahs, call Music Garden today at 800-689-BAND(2263) or email by clicking the more information tab on this page.
Songlist
- Not Available Online - Contact Us for Song List