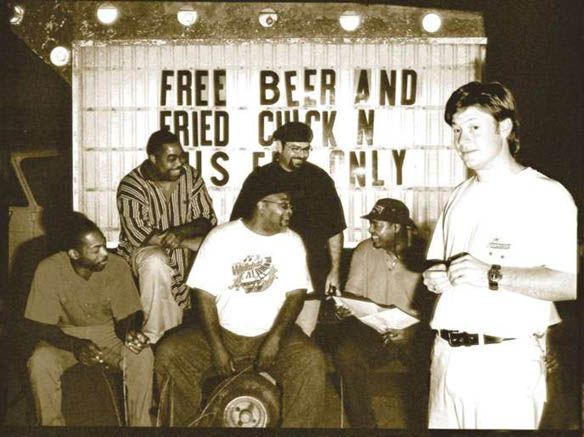 Patrick Smith's music is heavy with tradition, beautifully well crafted, and performed. It is also edgy and explosive, sometimes dancing along the dark, funky low notes that hide in those sucking, black spaces best-found lurking in barrooms sometime 'round midnight before bursting forth in a blaze of white-lighted gospel that sends dancers' hands writhing towards heaven in ecstasy.

The Patrick Smith Band's music is funky, bluesy, and soulful, but rocks. It resonates with both the weight of a yellow moon and the freshness of ice dripping off a cold beer. It's new and old at the same time. This music's got gut. For a Mississippi jam band, Patrick Smith show is electric and kinetic. You won't help but be moved.

Patrick Smith Band from Jackson, Mississippi is a high energy Jam band that plays Funk, Southern and Classic Rock, Groove and other types of music. This band is perfect for Festivals, Fraternity Parties, Fundraisers and other events. For booking Patrick Smith Band, call or email Music Garden today at 800-689-BAND(2263).
Songlist
A Train - Duke EllingtonAin't No Sunshine - Bill WithersAin't Wasting Time - Allman BrothersAll Along the Watchtower - Jimi HendrixAngel from Montgomery - John PrineAutumn Leaves - Frank SinatraBillie's Bounce - Various ArtistsBlue Bossa - Various ArtistsBrick House - CommodoresbrokendownmanBrown Eyed Girl - Van MorrisonCan't Always Get What You Want - Rolling StonesChameleon - Herbie HancockChoices - MudvayneCissy Strut - The MetersDixie Chicken - Little FeatDock of the Bay - Otis ReddingFeelin Alright - Joe CockerFire on the Mountain - Marshall Tucker BandFolsom Prison Blues - Johnny CashFranklin's Tower - Grateful DeadFriend of the Devil - Grateful DeadFunk Y'allHey Pocky Way - The MetersHigh Time We Went - Joe CockerHonky Tonk Women - jRolling StonesI Feel Good - James BrownInner City Blues - Marvin GayeIt Stoned Me - Van MorrisonJohnny B. Goode - Chuck BerryLet It Be - BeatlesLittle Red Rooster - Rolling StonesMakes Sense to Me - Widespread PanicMustang Sally - Wilson PickettMy MindOne Way Out - Allman BrothersPlay That Funky Music White Boy - Wild CherryPorch Song - Widespread PanicRiver RatRocket Man - Elton JohnSatin Doll - Duke EllingtonScreamin' Blue MeanieSex Machine - James BrownShaky Ground - Delbert McClintonSo What - Miles DavisSouthbound - Allman BrothersSpace Wrangler - Widespread PanicSt. Thomas - Sonny RollinsStatesboro Blues - Allman BrothersStop-Go - Widespread PanicSuperstition - Stevie WonderTake Me to the River - Talking HeadsThank You - Led ZeppelinThe Thrill Is Gone - B.B. KingThe Weight - The BandTravelin' Light - Widespread PanicTupelo Honey - Van MorrisonUp on Cripple Creek - The BandUse Me - Bill WithersVicksburnWe Want the Funk - ParliamentWill It Go Round in Circles - Billy PrestonWonderful Tonight - Eric Clapton
Demo Reels
View Bands with Similar Styles