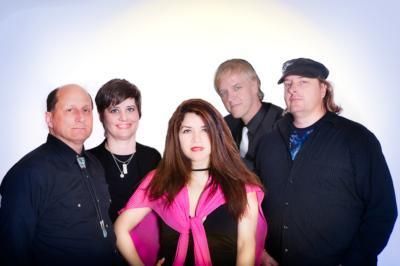 Hire The Wonderfuls and you will be hiring a professional band that will
make all of your guests glad they came to the celebration! The
Wonderfuls expertly cover groups like Madonna, No Doubt, Blondie, Katy
Perry, Lady Gaga, Pink, STP, Modern English, Billy Idol and literally
countless others. The band is made of only the finest musicians and no
detail is overlooked when learning each tune! The Wonderfuls will alwayslearn special request songs if made at least a week in advance of the show. The Wonderfuls bring pro sound & lights to their performances as well and they NEVER play too loud! When you hire The Wonderfuls for your event, be it a Wedding, a Corporate party, a Festival or virtually any event (except maybe a funeral...) we will add an element of fun that you could not have imagined! We also carry a dinner music (lite set) as well so we are prepared for whatever the event planner lays out! After that though, get ready to dance and party the night away as we perform non-stop hits! We also love to invoke crowd participation! We are loads of fun and we can't wait to make your next event a major success! Get
Ready for The Wonderfuls!

Wonderfuls Band from Dallas, Texas is a high energy Cover band that plays 80s, 90s, Rock/Classic Rock, Top 40/Hip Hop, Motown and a variety of songs. This band is perfect for Wedding Receptions, Fraternity Parties, Sorority Parties, Mardi Gras Balls, High School Proms, Company Parties, Fundraisers and other events. For Booking, call Music Garden today at 800-689-BAND(2263) or email by clicking on the "request more information" tab on this page.
View Bands with Similar Styles
Available Cities
Lake Charles Louisiana
Shreveport Louisiana
Dallas Texas
Houston Texas
Austin Texas
San Antonio Texas
Beaumont Texas
Tyler Texas