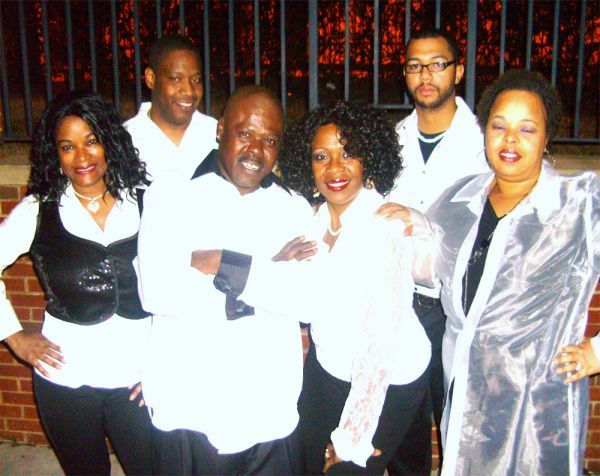 "UNITY" always sets the stage on fire with a combination of R&B, Blues, Top-40s, Jazz and Old-Skool favorites. Their vocal harmonics and stage presence compels you to become united with them. Rather foot-patting, finger popping, or head bobbing, it is virtually impossible to sit still once you have feasted your eyes on them.

Individually, the members of Unity share separate, but equal personal flavor and professional experience. Collectively, "UNITY" envelopes years of instrumental and entertainment artistry into the ultimate stage experience. Unity has brought their electrifying energy to the guest of a variety of Atlanta's top Night Spots to include Chit Chats, Grown Folks, and Club Ellery's. "UNITY" was invited to perform for the Feed the Homeless Christmas Event at Turner Field, maintained a eight-week stint at Underground Atlanta's Fountain Plaza, and shared the stage with The SOS Band and ZAPP in the 2003/2004 Southwest Community Festivals. They were televised on UPN 69 for the annual Wednesday Wind Down Concert Series, and were the guest band for professional athletes Brian Ingram (New England Patriots) and Tracy McGrady (T-Mac) of the Houston Rockets.

Versatility is one of Unity's major assets and they are sure to make your next social event a success. You will truly enjoy them as they capture your hearts through music and entertainment. They bring you.....

"ENTERTAINMENT: FROM THE SOUL TO THE SOUL"

Unity Band from Atlanta, Georgia is a high energy Dance & Party band that plays Motown, Top 40/Pop, Classic Rock, Oldies and Variety songs. This band is perfect for Wedding Receptions, Fraternity Parties, Sorority Parties, Mardi Gras Balls, High School Proms, Company Parties, Fundraisers and other events. For Booking, call Music Garden today at 800-689-BAND(2263) or email by clicking on the "request more information" tab on this page.
Songlist
1,2 Step - CiaraA Train - Ella FitzgeraldAddicted to Love - Robert PalmerAin't No Stopping Us Now - McFadden & WhiteheadAin't No Sunshine - Bill WithersAin't Nobody - Chaka KahnAin't Too Proud to Beg - The TemptationsAll I Do - Stevie WonderAscension - MaxwellAt Last - Etta JamesBack and Forth - CameoBad Girls - Donna SummerBe Young, Be Foolish, Be Happy - The TamsBoogie Oogie - Taste of HoneyBrick House - CommodoresBrown Eyed Girl - Van MorrisonBrown Skin - India ArieBurn Rubber - Gap BandCan I Change My Mind - Tyrone DavisCan't Help Fallin In Love With You - Elvis PresleCan't Hurry Love - The SupremesCan't Take That Away From Me - Frank SinatraCandy - CameoCandy Shop - 50 CentCelebration - Kool & the GangChain of Fools - Aretha FranklinChameleon - Herbie HancockCome See About Me - The SupremesCupid - Sam CookeDancin' in the Streets - Martha & the VandellasDisco Inferno -The TrammpsDo You Love Me - The ContoursDo You Love What You Feel - Chaka KahnDock of the Bay - Otis ReddingDown Home Blues - ZZ HillDr. Feelgood - Aretha FranklinEasy - CommodoresElectric Slide - Marcia GriffithsEverything is Alright - Stevie WonderFamily Affair - Mary J. BligeFantastic Voyage - LakesideFever - Lala HathawayFly Me to the Moon - Frank SinatraFresh & Clean - Various Jazz ArtistFriends & Strangers - Ronnie LawsFrom This Moment On - Shania TwainFunny Valentine - Billie HolidayGeorgia on My Mind - Ray CharlesGet Down On It - Kool & the GangGet Low - Lil John & the Eastside BoysGet Ready - The TemptationsGirl From Ipanema - Ella FitzgeraldGood Times - ChicHeatwave - Martha & the VandellasHey Ya - OutKastHold On, I'm Comin - Sam & DaveHole In the Wall - Mel WaitersHot In Here - NellyHow Sweet It Is - Marvin GayHow We Do - The Game/50 CentHurts So Good - John MellencampI Can't Help It - Norman BrownI Can't Make You Love - Nancy WilsonI Heard It Through the Grapevine - Gladys KnightI Like the Way You Move - OutKastI Will Survive - Gloria GaynorI'll Take You There - Staple SingersI'm So Excited - The Pointers SistersIf I Ain't Got You - Alicia KeysJoy to the World - Three Dog NightJust Be Good to Me - S.O.S. BandJust My Imagination - The TemptationsKilling Me Softly - Roberta FlackLast Dance - Donna SummerLast Two Dollars - Johnny TaylorLet's Get It On - Marvin GayeLet's Groove Tonight - Earth, Wind & FireLet's Stay Together - Al GreenLove Of My Life - Eryka BaduLove Overboard - Gladys KnightMidnight Hour - Wilson PickettMidnight Train to Georgia - Gladys KnightMisty - Ella FitzgeraldMoney Ain't A Thang - Jermiane DupreeMr. Magic - Grover WashingtonMr. Postman - The MarvelettesMustang Sally - Wilson PickettMy Girl - TemptationsMy Goodies - CiaraMy Guy - Mary WellsNeither One Of Us - Gladys KnightNever Too Much - Luther VandrossOld Time Rock & Roll - Bob SeagerOne of Those Days - Whitney HoustonProud Mary - Ike & Tina TurnerRain Forest - Paul HardcastleRapper's Delight - Sugar Hill GangReal Love - Mary J. BligeRespect - Aretha FranklinRing My Bell - Anita WardRock Me Baby - BB KingRoute 66 - Nat King ColeSame Old Song - Four TopsSarah Smile - Hall & OatesSearching - Roy AyersSend for Me - Atlantic StarrSentimental Mood - Phyllis HymanShake It Off - Mariah CareyShake It Up Baby - Isley's BrothersSigned, Sealed, Delivered - Stevie WonderSilver Shadows - Atlantic StarrSingle Life - CameoStand By Me - Ben E. KingSteppin Out, Steppin In - ZZ HillStill A Friend of Mine - IncognitoStop On By - Chaka KahnStormy Monday - T-Bone WalkerSugar Pie, Honey Bunch - Four TopsSummertime - Billie HolidaySunshine of My Life - Stevie WonderSweet Home Alabama - Lynyrd SkynyrdSweet Thang - Chaka KahnTake Your Time - S.O.S. BandThe Closer I Get to You - Donny Hathaway/RobertaThe Thrill Is Gone - B.B. KingThe Way You Do the Things You Do - The TemptationsThe Way You Look Tonight - Frank SinatraThis Is How We Do It - Montell JordanThis Magic Moment - The DriftersThis Masquerade - George BensonTonight is the Night - Betty WrightTrack 1Track 2Track 3Track 4Tracks of My Tears - Smokey RobinsonTurn Back the Hands of Time - Tyrone DavisTwistin the Night Away - Sam CookeUnbreakable - Alicia KeysUnder the Boardwalk - The DriftersUnwrapped - Various Jazz ArtistUse Me - Bill WithersVideo - India ArieVogue - MadonnaWe Belong Together - Mariah CareyWe're In this Love Together - Al JarreauWelcome to Atlanta - Jermaine DupreeWhat a Wonderful World - Louie ArmstrongWhat You Won't Do for Love - Bobby CaldwellWhat's Going On - Marvin GayeWhen Love Calls - Atlantic StarrWhen Something's Wrong - Sam & DaveWhen Your Life Was Low - Lala HathawayWithout You - Mary J. BligeYou Dropped A Bomb On Me - Gap BandYou Send Me - Sam Cooke
Demo Reels
View Bands with Similar Styles