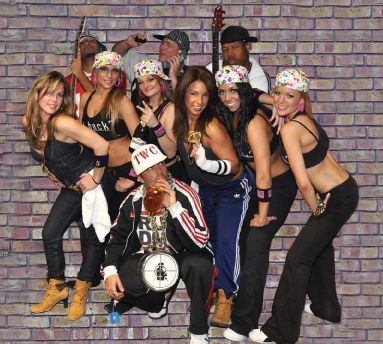 If you'd like your client's crowd to Bust a Move, dance the Humpty or wish they were "a little bit talla", there's only one band IN THE WORLD who covers all the great hip hop and party anthems of the late 80's and the early 90's...

Too White Crew isn't just a band. It's a complete show and a high energy party from Chicago that brings back the "Golden Era" of hip hop -- when hip hop was all about the party and less about rims, Escalades and "how we do".

The six-piece, all-live band (along with the choreographed Fly Girls) perform all the great hip hop party classics that festival goers know and love...but until now, have never seen performed live. The performance is very artistic and respectful to the music, yet wild, interactive and packed with impromptu comedic moments that create great memories.

Too White Crew Band from Chicago, Illinois is a high energy Hip Hop band that plays Top 40, R&B, Hip Hop and other types of music. This band is perfect for Festivals, Fraternity Parties, Sorority Parties, Mardi Gras Balls, High School Proms and other events. For Booking, call Music Garden today at 800-689-BAND(2263) or email by clicking on the "request more information" tab on this page.
Songlist
Ain't Too Proud to Beg - TLC Baby got Back - Sir Mix-a-Lot Back to Life - Soul II Soul Because I Got High - Afroman Big Poppa - Notorious BIG Boom I %$ Your Boyfriend - MC LusciousBust a Move - Young MC Can I Kick It - A Tribe Called Quest Candy Man - Knockin' Boots Children's Story - Slick Rick Cool Like Dat - Digable Planets Creep - TLC Da Dip - Freak Nasty Damn It Feels Good to Be a Gangsta - Geto Boys Ditty - Paper Boy Doin' It - LL Cool J Doo Wop (That Thang) - Lauren Hill Everyday People - Arrested Development Fight For Your Right - Beastie Boys Fight the Power - Public Enemy Fresh Prince of Bel Air - Will Smith Funky Cold Medina - Tone Loc Gangster's Paradise - Coolio Ghetto Bastard - Naughty by Nature Gimme That Nut - Eazy E Gin & Juice - Snoop Dogg Good Vibrations - Marky Mark and the Funky Bunch Hip Hop Hooray - Naughty by Nature I Got Five On It - Luniz I Wish - Skee Lo Ice Ice Baby - Vanilla Ice Informer - Snow Insane in the Brain - Cypress Hill It Takes Two - Rob Base & DJ EZ Rock It's Tricky - Run DMC Jam On It - Newcleus Juicy - Notorious BIG Jump Around - House of Pain Just a Friend - Biz Markie Ladies Night - Lil' Kim Let's Talk About Sex - Salt-n-Pepa Lick It - Roula Mama Said Knock You Out - LL Cool J Mary Mary - Run DMC Missing You - Puff Daddy Mo Money Mo Problems - Puff Daddy Move This - Technotronic None of Yo Business - Salt-n-Pepa Nuthin But a G Thang - Dr Dre OPP! - Naughty by Nature Paid in Full - Eric B & Rakim Poison - Bell Biv Devoe Push It - Salt-n-Pepa Rapper's Delight - Sugar Hill Gang Ready or Not - Fugees Regulate - Warren G Rump Shaker - Wreckx N Effect Scrubs - TLC Set Adrift a Memory Bliss - PM Dawn Sex You Up - Color Me Badd Shoop - Salt-n-Pepa Short "Short" Man - 20 Fingers Sure Shot - Beastie Boys The Humpty Dance - Digital Underground This Is How We Do It - Montel Jordan Walk This Way - Run DMC What a Man - Salt-n-Pepa & En Vogue Whomp There It Is - Tag Team Wild Thing - Tone Loc
View Bands with Similar Styles
Available Cities
Little Rock Arkansas
Eureka Springs Arkansas
Louisville Kentucky
Lexington Kentucky
Bowling Green Kentucky
Fayetteville North Carolina
Raleigh North Carolina
Nashville Tennessee
Memphis Tennessee
Chattanooga Tennessee
Jackson Tennessee
Knoxville Tennessee
Fayetteville Tennessee
Cleveland Tennessee
Gatlinburg Tennessee
Virginia Beach Virginia
Newport News Virginia
Hampton Virginia
Richmond Virginia
Orange County Virginia
Chesapeake Bay Virginia
Washington D.C.
Raleigh North Carolina
Des Moines Iowa
Jefferson City Missouri
Kansas City Missouri
St Louis Missouri
Fayetteville Arkansas
Springfield Illinois
Chicago Illinois
Humboldt Illinois
Indianapolis Indiana
New Albany Indiana
Columbus Ohio
Canton Ohio
Toledo Ohio
Cincinnati Ohio