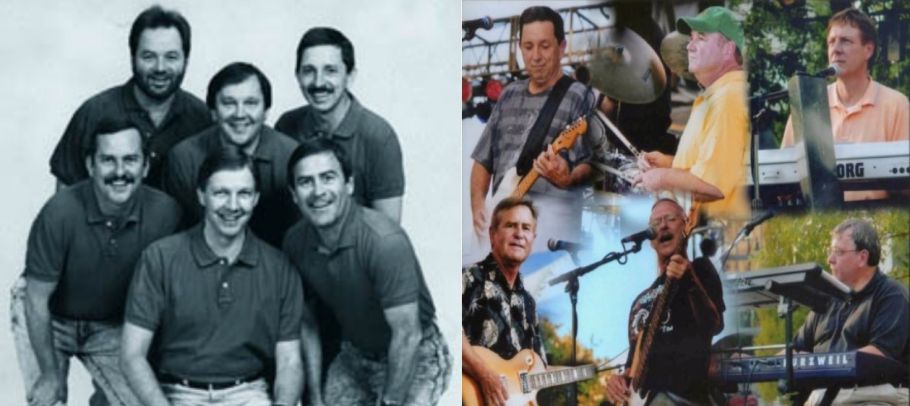 Sweet Young'uns - is that really the name of a band? You bet it is! Of course you already know that if you were a music fan in Alabama in the late 60's and early 70's. The band was formed in 1966 and within two years the four young musicians were at the forefront of the regional music scene. The group was hot! With two local records and one album, the band played to packed houses wherever they performed. While many groups of this era concentrated on blues and soul music, the Sweet Young'uns won over their audiences with authentic covers of the British Invasion groups as well as hits from popular American bands.

Their popularity allowed the opportunity for the group to appear with such National Acts as Joe South, Billy Joe Royal, the Hombres, Tommy Boyce, Bobby Hart, the Classics Four, LOBO, and the Boxtops.

A couple of breaks brought the group to edge of national stardom, but in 1976 the group split after realizing they had to get on with their lives in the real world. 1976 - that was fifteen years ago. What ever happened to those Sweet Young'uns?

In early 1990 a local Montgomery radio station played the Young'uns 1967 cover of Joe South's "Untie Me" as its Lost Oldie of the day. The station received so many requests for the tune that they asked the members to get together for a live interview. The response was so great that the now successful business men decided to have a reunion. Friday, April 13, 1990, was definitely not a bad luck day for the group. The venue was filled to such a capacity that people were waiting in line to enter the club. The Sweet Young'uns were revived!

From Tallassee, Alabama, this Alabama oldies band still has original members Larry Hoyle (guitar), Ron Howard (keyboards), Johnny Hassett (bass), and Chris Seymour (drums). With the addition of keyboardist John Long, Jr. and guitarist Craig Young, the sound is better than ever. Dual guitars creates a mix that can't be beaten for truly authentic 60's and 70's music. They play with such accuracy that everyone is drawn to the dance floor. All of the elements are there: the steady rhythm section, the lush strings and strong hors created by the keyboards, and the fluid harmonies all blend together at a volume so pleasing that you almost won't believe your ears.

An exciting and memorable experience awaits the audience with each Sweet Young'uns performance. Revive your memories and relive the times with the Sweet Young'uns! For Booking, call Music Garden today at 800-689-BAND(2263) or email by clicking on the "request more information" tab on this page.
Songlist
96 Tears - ? & the MysteriansAlways On My Mind - Willie NelsonBaby I Need Your Lovin' - Four TopsBe Young, Be Foolish, Be Happy - The TamsBlue Suede Shoes - Elvis PresleyBrown Eyed Girl - Van MorrisonBrown Sugar - Rolling StonesCan't Buy Me Love - The BeatlesChains - The BeatlesDesperado - EaglesDo Wa Diddy - Manfred MannDomino - Van MorrisonDouble Shot - The Swingin' MedallionsFor the Good Times - Al GreenFrom Me to You - The BeatlesGimme Some Lovin' - Spencer Davis GroupGloria - Van MorrisonGood Lovin' - The RascalsGreat Balls of Fire - Jerry Lee LewisHard Days Night - The BeatlesHold On I'm Coming - Sam & DaveHonky Tonk Women - Rolling StonesI Saw Her Standing There - The BeatlesI Should Have Known Better - The BeatlesI Started a Joke - Bee GeesI Want to Hold Your Hand - The BeatlesI've Been Hurt - The TamsI've Gotta Get a Message To You - Bee GeesIt's All Over Now - Rolling StonesJailhouse Rock - Elvis PresleyKind of a Drag - BuckinghamsLight My Fire - DoorsListen to the Music - Doobie BrothersLodi - CCRLong Train Running - Doobie BrothersLouie, Louie - KingsmenLove Potion #9 - CloversMidnight Hour - Wilson PickettOld Time Rock N Roll - Bob SegerOutsiders - The TamsPeaceful Easy Feeling - EaglesPlease Please Me - The BeatlesProud Mary - CCRShout - Isley BrothersSlow Down - The BeatlesSoul Man - Sam & DaveSweet Home Alabama - Lynyrd SkynyrdTequilla Sunrise - EaglesThe Last Time - Rolling StonesTime Won't Let Me - The TamsTo Love Somebody - Bee GeesU.S.S.R. - The BeatlesWho'll Stop the Rain - Isley BrothersWooly Bully - Sam the Sham & the Pharohs
Demo Reels
View Bands with Similar Styles