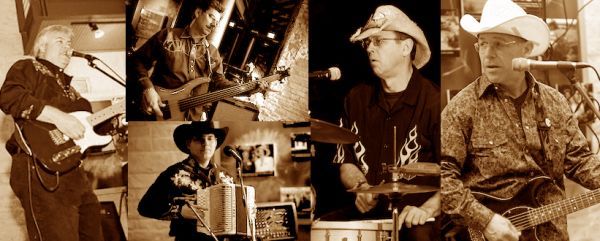 The Stringbenders are an exciting 5-piece Texas country band (located in the Houston
Gulf coast area) playing the best of classic country/Cajun/Zydeco/TexMex styles including a bit of rock n roll to provide everyone with a great evening of entertainment.

Stringbenders Band from Houston, Texas is a high energy Country band that plays Party, Classic Rock, Southern Rock, Motown/Oldies and Variety songs. This band is perfect for Wedding Receptions, Fraternity Parties, Sorority Parties, Mardi Gras Balls, High School Proms, Company Parties, Fundraisers and other events. For Booking, call Music Garden today at 800-689-BAND(2263) or email by clicking on the "request more information" tab on this page.
Songlist
Acadian Angel - Shake Russell All Along the Watchtower - Bob Dylan Back On Top - Original Blues Comin' On - Original Boys from Oklahoma - Cross Canadian Ragweed Cest' La Vie - Chuck Berry Cherry Bomb - John Mellencamp Cold Shot - Stevie Ray Vaughan Comes A Time - Neil Young Dim Lights Thick Smoke - Marty Stewart Does Fort Worth Ever - George Strait Don't Think Hank Done It This Way - Waylon Jennings Down On The Border - Original Drinking Bone - Tracy Byrd Easy Come, Easy Go - George Strait Esmerelda - Original Evangeline - Original Fact Or Fiction - Original First Honky Tonk On The Right - Original Folsom Prison - Johnny Cash Guacamole - Texas Tornados Guitars and Cadillacs - Dwight Yoakam Gulf Coast Breeze - Original Heart of Gold - Neil Young Hey Baby Que Paso - Texas Tornados Honky Tonk Blues - Hank Williams Sr. Honky Tonkin - Joe Ely How I Got To Memphis - Tom T. Hall I Know You Rider - Grateful Dead It's All Over Now - Rolling Stones Jackson Square - Original Johnny B. Goode - Chuck Berry King's Highway - Original Knockin' On Heaven's Door - Bob Dylan Long Way to Mexico - Roger Creager Love Me Do - The Beatles Man to Man - Gary Allen Memphis - Johnny Rivers Midnight Rose - Original Momma Got Married Last Night - Original Move It On Over - Hank Williams Sr. Next Teardrop Falls - Freddy Fender Poor Man's Son - Charlie Robison Pop-A-Top - Alan Jackson Pretty Little So and So - Original Real Bad Feeling - Original Ring of Fire - Johnny Cash Road Goes On Forever - Joe Ely Route 66 - Various Seminole Wind - John Anderson Silver Wings - Merle Haggard Six Pack To Go - Hank Thompson Solitary Man - Neil Diamond Songs 100 Years Old - Original Squeezebox - Who=20 Streets of Bakersfield - Dwight Yoakam Sundown - Gordon Lightfoot Take Me Out To the Dancehall - Pat Green Teddy Bear - Elvis Presley Texas Bound - Original Texas Is My Home - Original That's Alright - Elvis Presley The Fugitive - Merle Haggard Time Marches On - Tracy Lawrence Tonight We Ride - Original Tulsa Time - Don Williams Two More Bottles of Wine - Delbert McClinton Voodoo Chile - Jimi Hendrix Walk of Life - Dire Straits Welcome To The Wild Wild West - Original When The Night Comes - Original Who Were You Thinking Of - Texas Tornados Why Baby Why - George Jones Wonderful Tonight - Eric Clapton You Ain't Goin' Nowhere - Bob Dylan You Can't Always Get - Rolling Stones You Can't Do That - The Beatles Zydeco Soul - Original
View Bands with Similar Styles
Available Cities