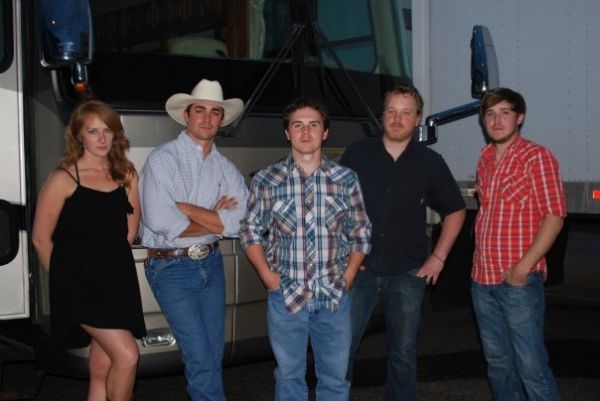 Steven Padilla Band - This band plays 200 songs! Great vocals along with solid band make up one of the top party bands in the Alabama area. With a focus on country and southern rock, this Alabama country band covers every type of dance music.

Steven Padilla Band from Demopolis, Alabama is a high energy Country band that plays Party, Classic Rock, Southern Rock, Motown/Oldies and Variety songs. This band is perfect for Wedding Receptions, Fraternity Parties, Sorority Parties, Mardi Gras Balls, High School Proms, Company Parties, Fundraisers and other events. For Booking, call Music Garden today at 800-689-BAND(2263) or email by clicking on the "request more information" tab on this page.

Steven has been writing, performing and recording original music for years. His albums have sold thousands of copies both in the US and around the world.
Songlist
3 AM - Matchbox 20867-5309 - Tommy TutoneAfter Midnight - Eric ClaptonAin't Goin Down Till the Sun Comes Up - Garth BrooksAin't Too Proud To Beg - The TemptationsAlabama - Cross Canadian RagweedAlcohol - Brad PaisleyAll Along the Watchtower - Jimi HendrixAll For You - Sister HazelAll My Friends Say - Luke BryanAlmost Home - Craig MorganAmerican Girl - Tom PettyAmie - Pure Prairie LeagueAnd It Stoned Me - Van MorrisonAny Way You Want It - JourneyBack Where I Come From - Kenny ChesneyBanana Pancakes - Jack JohnsonBe Like That - 3 Doors DownBeast of Burden - The Rolling StonesBest I Ever Had - Gary AllenBig Green Tractor - Jason AldeanBlister in the Sun - Violent FemmesBlue Clear Sky - George StraitBoot Scootin Boogie -Brooks & DunnBoston - AugustanaBoys of Summer - Don HenleyBreakdown - Tom PettyBrick House - The CommodoresBroken - SeetherCall Me The Breeze - Lynyrd SkynyrdCalling Baton Rouge - Garth BrooksCan't You See - Marshall Tucker BandCarrying Your Love with Me - George StraitChampagne Supernova - OasisChattahoochee - Alan JacksonChicken Fried - Zach BrownCigar Song - Brad PaisleyCocaine - Eric ClaptonCome a Little Closer - Dierks BentleyCopperhead Road - Steve EarleCountry Boy - Alan JacksonCountry Boy Can Survive - Hank Williams Jr.Country Man - Luke BryanCrazy - Steven PadillaCripple Creek - The BandCrusin' - Smokey RobinsonCurtis Loew - Lynyrd SkynyrdCuts Like a Knife - Bryan AdamsDancing In the Moonlight - King HarvestDead End Road - Steven PadillaDead Flowers - The Rolling StonesDinosaur - Hank Williams Jr.Dixie Land Delight - AlabamaDock of the Bay - Otis ReddingDon't Do Me Like That - Tom PettyDon't Stop Believing - JourneyDown Under - Men at WorkDrift Away - Dobie GrayDrive - IncubusDriving My Life Away - Eddie RabbitDust on the Bottle - David Lee MurphyEasy Come, Easy Go - George StraitEasy Like Sunday Morning - Lionel RichieEven the Losers - Tom PettyEvery Mile A Memory - Dierks BentleyEvery Rose Has Its Thorn - PoisonFamily Tradition - Hank Williams Jr.Fast as You - Dwight YoakamFeel Like Making Love - Bad CompanyFeeling Alright - Joe CockerFishing In the Dark - Nitty Gritty Dirt BandFlake - Jack JohnsonFolsom Prison - Johnny CashFool Hearted Memory - George StraitFor The First Time - Kenny ChesneyForever - Steven PadillaForget About You - Dierks BentleyFoxy Lady - Jimi HendrixFree and Easy - Dierks BentleyFree Bird - Lynyrd SkynyrdFree Fallin' - Tom PettyFriend of the Devil - Grateful DeadFriends in Low Places - Garth BrooksGimme Three Steps - Lynyrd SkynyrdGood Directions - Billy CurringtonGood Hearted Woman - Waylon JenningsGoodbye Says It All - Black HawkGuys Like Me - Eric ChurchHard Night of Drinking - Steven PadillaHard To Handle - Black CrowesHeartland - George StraitHere I Go Again - WhitesnakeHey, Hey What Can I Do - Led ZeppelinHighway to Hell - AC/DCHold My Hand - Hootie & the BlowfishHonky Tonk Women - The Rolling StonesHot Legs - Rod StewartHotel California - EaglesHow Am I Doing - Dierks BentleyHow Forever Feels - Kenny ChesneyI Keep Forgetting - Michael McDonaldI Want You All the Time - Steven PadillaI Want You to Want Me - Cheap TrickI'm Gonna Miss Her - Brad PaisleyIce Cream Man - Van HalenIf I Know Me - George StraitIn Color - Jamey JohnsonInto The Mystic - Van MorrisonIt Ain't Easy Being Me - Chris KnightIts Been A While - StaindJealous Again - Black CrowesJohn Deer Green - Joe DiffieJust Don't Happen Twice - Kenny ChesneyKryptonite - 3 Doors DownLawyers, Guns, Money - Warren ZevonLay Down Sally - Eric ClaptonLearning To Fly - Pink FloydLeaving the Bad Behind - Steven PadillaLet Her Cry - Hootie & the BlowfishLet It Bleed - The Rolling StonesLet's Get It On - Marvin GayeLife By the Drop - Stevie Ray VaughanListen To her Heart - Tom PettyListen To the Music - Doobie BrothersLittle Red Corvette - PrinceLittle Wing - Jimi HendrixLiving For the Night - George StraitLiving In a Moment - Ty HerndonLong Black Veil - Johnny CashLong Trip Alone - Dierks BentleyLot of Leavin Left to Do - Dierks BentleyLove Don't Live Here Anymore - Lady AntebellumLove the One Your With - Steve Miller BandLoving Cup - The Rolling StonesMary Jane's Last Dance - Tom PettyMeet Virginia - TrainMelissa - The Allman BrothersMessage in a Bottle - PoliceMidnight Rider - The Allman BrothersMiss You - The Rolling StonesMoonlight Mile - The Rolling StonesMoving On - Steven PadillaMr. Jones - Counting CrowesMuch Too Young - Garth BrooksMy Own Prison - CreedNever Take the Place - PrinceNight Moves - Bob SegerNo Such Thing - John MayerNo Woman No Cry - Bob MarleyNot Fade Away - The Rolling StonesNothing but a Good Time - PoisonOn and On - Stephen BishopOn the Road Again - Wilson NelsonOne Way Out - The Allman BrothersOphelia - The BandOutside - StaindParty Crowd - David Lee MurphyPeople Are Crazy - Billy CurringtonPride and Joy - Stevie Ray VaughanPurple Rain - PrincePush - Matchbox 20Queen of My Doublewide Trailer - Sammy KershawRace Is On - George JonesRamble On - Led ZeppelinRamblin Man - The Allman BrothersRaspberry Beret - PrinceReason and Rhyme - Steven PadillaRich Girl - Hall & OatesRock and Roll Hoochie Koo - Rick DerringerRocking In the Free World - Neil YoungScarlet Begonias - Grateful DeadSecond That Emotion - Smokey RobinsonSettle For a Slow Down - Dierks BentleyShakey Ground - The TemptationsShe Talks To Angels - Black CrowesShimmer - FuelShooting Star - Bad CompanySigned, Sealed, Delivered - Stevie WonderSimple Man - Lynyrd SkynyrdSix Days on the Road - Sawyer BrownSixteen In a Small Town - Steven PadillaSome Kind of Wonderful - Grand Funk RailroadSomething About a Woman - Jake OwenSomewhere In Between - LifehouseSomewhere Only We Know - KeaneSorry - Buck CherrySouthbound - The Allman BrothersStage Five Clinger - Steven PadillaState of Mind - Clint BlackStatesboro Blues - The Allman BrothersStir It Up - Bob MarleyStop Draggin My Heart - Tom PettyStormy Monday - The Allman BrothersStray Cat Strut - Stray CatsStuck In the Middle With You - Steelers WheelStupid Boy - Keith UrbanSunburn - FuelSweet Black Angel - The Rolling StonesSweet Emotion - AerosmithSweet Home Alabama - Lynyrd SkynyrdSweet Virginia - The Rolling StonesSympathy For the Devil - The Rolling StonesTake It Easy - EaglesTake the Money and Run - Steve Miller BandTangerine - Led ZeppelinTangled Up In Blue - Bob DylanTequila Sunrise - EaglesThank You - Led ZeppelinThat Aint My Truck - Rhett AkinsThat's The Way - Led ZeppelinThe Dance - Garth BrooksThe Fireman - George StraitThe Good Stuff - Kenny ChesneyThe Joker - Steve Miller BandThe Waiting - Tom PettyThe Weight - The BandTime Marches On - Tracy LawrenceTime of Your Life - Green DayTiny Dancer - Elton JohnTorn and Frayed - The Rolling StonesTracks of My Tears - Smokey RobinsonTroubadour - George StraitTrying To Stop Your Leaving - Dierks BentleyTumbling Dice - The Rolling StonesUnwound - George StraitUse Me Up - Bill WithersVoodoo Child - Jimi HendrixWagon Wheel - Old Crow Medicine ShowWaiting On a Friend - The Rolling StonesWalk Away - Ben HarperWalk This Way - AerosmithWalking On Sunshine - Katrina & the WavesWe Rode In Trucks - Luke BryanWe Went Out Last Night - Kenny ChesneyWerewolves of London - Warren ZevonWhat I Got - SublimeWhat I Need To Do - Kenny ChesneyWhat's This Life For - CreedWhere the Green Grass Grows - Tim McGrawWhipping Post - The Allman BrothersWhiskey Bent - Hank Williams Jr.Whiskey River - Willie NelsonWho Wouldn't Wanna Be Me - Keith UrbanWhy Georgia - John MayerWild Horses - The Rolling StonesWish It Would Break - Dierks BentleyWith Arms Wide Open - CreedWithout You - Steven PadillaWonderwall - OasisYou Cant Always Get What You Want - The Rolling StonesYou Don't Know How It Feels - Tom PettyYou Look Good In My Shirt - Keith UrbanYour Everything - Steven PadillaYour Love - The OutfieldYour Time Has Come - Led Zeppelin
Demo Reels
View Bands with Similar Styles