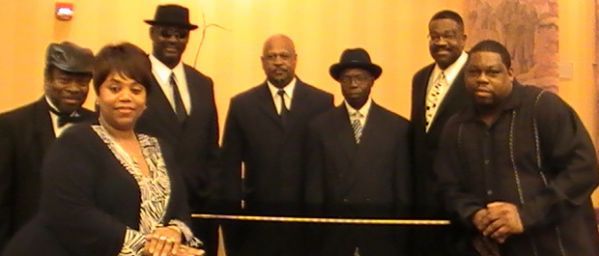 House Rockin' Good Times is what you get any time Stephanie Pickett-N-Style takes the stage. Along with its high-energy shows, this Alabama cover band has a reputation of mesmerizing audiences with its unique sound and wide variety of music.
Stephanie Pickett-N-Style is a seven-piece unit complete with guitar, bass, keyboard, saxophone, drums, and dynamic male and female vocalists. The party band plays in a number of musical styles including Motown, R&B, Jazz, Hip-Hop and more.
From oldie standards to the newest party tunes, Stephanie Pickett-N-Style is the perfect versatile band for any event, from Weddings and Country Clubs to College Parties and Cocktails.

Stephanie-N-Style Band from Montgomery, Alabama is a high energy Dance & Party band that plays Motown, Top 40/Pop, Classic Rock, Oldies and Variety songs. This band is perfect for Wedding Receptions, Fraternity Parties, Sorority Parties, Mardi Gras Balls, High School Proms, Company Parties, Fundraisers and other events. For Booking, call Music Garden today at 800-689-BAND(2263) or email by clicking on the "request more information" tab on this page.
Songlist
1999 - PrinceABC - Jackson 5Ain't Nobody - Chaka KhanAnd the Beat Goes On - WhispersAt Last - Etta JamesBaby Baby Baby - TLCBaby Love - Diana RossBack in Love Again - LTDBack in Stride - Frankie Beverly & MazeBack That A** Up - JuvenileBad Girls - Donna SummerBad Mamma Jamma - Carl CarltonBe Young, Be Foolish, Be Happy - The TamsBillie Jean - Michael JacksonBlueberry Hill - Fats DominoBoogie Oogie Oogie - Taste of HoneyBoogie Wonderland - Earth, Wind & FireBrick House - CommodoresBrown Eyed Girl - Van MorrisonC'mon n Ride It (The Train) - Quad City DJ'sCan't Go For That - Hall & OatesCasanova - LevertCelebration - Kool & the GangCreep - TLCDa Butt - EUDo you Wanna Get Funky - C & C Music FactoryDock of the Bay - Otis ReddingDon't Mess with My Man - Lucy PearlDown Home Blues - ZZ HillDr. Feel Good - Aretha FranklinEarly in the Morning - Gap BandEasy - CommodoresElectric Slide - Marcia GriffithsEnd of the Road - Boyz II MenErotic City - PrinceEverlasting Love - Carl CarltonEvery Breath You Take - StingEverybody Dance Now - C & C Music FactoryFamily Affair - Mary J. BligeFantasy - Earth, Wind, & FireFiesta - R. Kelly & SantanaFire - Ohio PlayersFlashlight - ParliamentFreeway of Love - Aretha FranklinFunking 4 Jamaica - Mariah Carey & MystikalGansta Paradise - CoolioGeorgia - Ray CharlesGet Down On It - Kool & the GangGet Down Tonight - KC & the Sunshine BandGet Up - James BrownGive Me One Reason - Tracy ChapmanGood Time - ChicGot Me Working Day & Night - Michael JacksonGrapevine - Gladys Knight / Marvin GayeHow Sweet It Is - Marvin GayeI Believe I Can Fly - R KellyI Believe in Miracles - Hot ChocolateI Don't Want to Know - Gladys KnightI Feel for You - Chaka KhanI Feel Good - James BrownI Never Loved a Man - Aretha FranklinI Will Survive - Gloria GaynorI'm Coming Out - Diana RossIn the MoodIndependent Women - Destiny's ChildIt's Alright - ImpressionsJump to It - Aretha FranklinJungle Boogie - Kool & the GangJust My Imagination - TemptationsKilling Me Softly - FugeesKiss - PrinceKnock on Wood - Eddie FloydLady Marmalade - Patti LaBelleLe Freak - ChicLet It Whip - Dazz BandLet's Get It On - Marvin GayeLet's Go Dancing - Kool & the GangLet's Groove Tonight - Earth, Wind & FireLet's Stay Together - Al GreenLittle Red Corvette - PrinceLong Train Running - Doobie BrothersLouie, Louie - KingsmenLove and Happiness - Al GreenLove Rollercoaster - Ohio PlayersMan Eater - Hall & OatesMidnight Hour - Wilson PickettMidnight Train to Georgia - Gladys KnightMistyMove Your Boogie Body - The BarkaysMr. Big Stuff - Jean KnightMr. MagicMustang Sally - Wilson PickettMy Girl - TemptationsNeither One of Us - Gladys KnightNo Diggity - Black StreetNo Parking on the Dance Floor - Midnight StarOn BroadwayOutrageous - LakesidePlay that Funky Music - Wild CherryPony - GinuwinePopular StandardsProud Mary - Tina TurnerPurple Rain - PrincePush It - Salt -N- PepaRaid - LakesideRainy Night in Georgia - Brook BentonRapper's Delight - Sugar Hill GangRemember the Times - Michael JacksonRespect - Aretha FranklinRight Kind of Lover - Patti LaBelleRing My Bell - Anita WardRock Steady - WhispersSarah Smile - Hall & OatesSatin DollSentimental JourneySeptember - Earth, Wind & FireSexual Healing - Marvin GayeShake Your Body (Down to the Ground) - Jackson 5Shining Star - ManhattansShout - Isley BrothersSkin Tight - Ohio PlayersSpanish HarlemStay with Me Tonight - Jeffery OsborneStop in the Name of Love - SupremesStrokin' - Clarence CarterSugar Pie Honey Bunch - Four TopsSuper Freak - Rick JamesSuperstition - Stevie WonderSussudio - Phil CollinsSweet Home Alabama - Lynyrd SkynyrdSweet Thang - Chaka KhanSweetest Taboo - SadeTake the A TrainTake Your Time (Do it Right) - S.O.S. BandTell Me Something Good - Chaka KhanThat's the Way I Like It - KC & the Sunshine BandThat's the Way of the World - Earth, Wind & FireThe Twist - Chubby CheckersThe Way You Make Me Feel - Michael JacksonThis Is How We Do It - Montell JordanTo Be Real - Cheryl LynnTootsie Roll - 69 BoyzTurn the Beat Around - Vicki Sue RobinsonUnder the Boardwalk - DriftersUnforgettableUpside Down - Diana RossWe Are Family - Sister SledgeWe Want the Funk - ParliamentWhat a Beautiful World - Steely DanWhat a Wonderful WorldWhat's Going On - Marvin GayeWhen a Man Loves a Woman - Percy SledgeWhen Doves Cry - PrinceWhere Did Our Love Go - SupremesWind Beneath My Wings - Bette MidlerWonderful Tonight - Eric ClaptonYMCA - Village PeopleYou Dropped a Bomb On Me - Gap BandYou Will Know - Black Men UnitedZoom - Commodores
Testimonials
"Everyone had a great time. The dance floor was packed all night. I think they only took one break. Fun!"
Hunter-Wedding Reception-Union Springs, AL
"Guests at the reception have already called me wanted to know how they can book them! They took a load off me on my "Big Day"! We were very, very pleased! Wonderful! Stephanie is a sweetheart!!"
Michelle-Wedding Reception-Auburn, AL
"They were a huge hit among the attendees of the event. I have already recommended them to other groups."
Robyn-Ball-Daphne, AL
Demo Reels
View Bands with Similar Styles