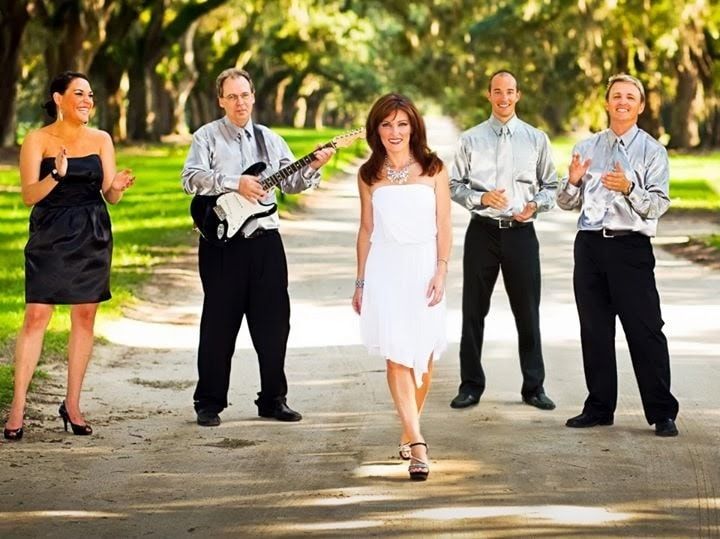 Sissy Quinn and Southern Charm Band- If you want to be entertained in the Charleston, South Carolina area, then you've come to the right place! Whether you like to Shag, Disco, Two Step or Twerk... we've got you covered!

Growing up on stage - singing, dancing and playing the violin, Sissy's first time on stage was before she was actually born! Growing up at her Mom's dance studio, she learned most every style of dance and began to incorporate her natural ability to sing in her shows. As a child, Sissy competed and won numerous beauty and talent awards and became one of the youngest Singer/Dancer performers at Carowinds Theme Park, barely turning sixteen in time to start rehearsals! Playing the violin for ten years as well as studying dance at Columbia College, Sissy has lived in Nashville and Branson, Missouri and worked with top performers throughout her career. She has also been honored with four Cammy Awards from the Association of Beach Music. Playing her first band gig at the age of 11, she's still going strong today with Sissy Quinn and Southern Charm!

ONE OF THE SOUTHEAST'S TOP FEMALE VOCALIST AND ENTERTAINER IS WHAT YOU GET WITH SISSY QUINN AND SOUTHERN CHARM! BORN INTO A MUSICAL FAMILY, SISSY HAS BEEN ENTERTAINING AUDIENCES HER ENTIRE LIFE AND KNOWS HOW TO CAPTIVATE ANY CROWD. AFTER STUDYING PERFORMING ARTS IN COLLEGE, SISSY MOVED TO NASHVILLE AND WORKED WITH LOCAL AND NATIONAL ARTISTS. SHE WAS THEN OFFERED A POSITION AT THE MICKEY GILLEY THEATRE IN BRANSON, MISSOURI WHERE SHE WAS A FEATURED VOCALIST, VIOLINIST AND SHOW CHOREOGRAPHER.
After years of being on the road yet always being a true Carolina Girl, Sissy decided to come back to the Carolina's and start her own band as well as record her first Beach, Boogie and Blues CD self titled "Sissy Kearney Quinn". She was honored with four "Cammy" awards from the SC Beach Music Association and continues to be heard on Beach Music stations and programs throughout the Eastcoast. Sissy's experience and professionalism, allows her the ability to cater to any type of event you have and ensures you and your guest a party you'll never forget!

Surrounded by only the best musicians, Sissy Quinn and Southern Charm play a variety of songs from every genre to include, Motown, Disco, Beach, Blues and of course your current Top 40, and guarantees you a high energy show that will keep you on the dance floor all night long! Whether you Shag, Disco, Two-Step or Twerk… To book Sissy Quinn and Southern Charm call or email Music Garden today!