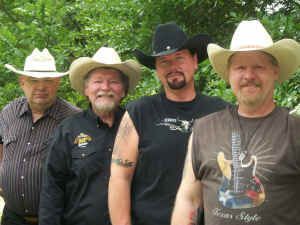 Rob Kent & The Texas T Band is an exciting Texas cover band playing New Country, Classic Country, and Southern Rock, as well as some Originals. We believe in having fun, playing good music, and just plain entertaining. We bring our own special show to the table every time we play. Our band consists of varying ranges of vocals, some hot guitar, some excellent back beat bass guitar and top notch percussions. We have our own sound and lighting equipment when needed.

Rob Kent & The Texas T Band from Dallas, Texas is a high energy Country band that plays Party, Classic Rock, Southern Rock, Motown/Oldies and Variety songs. This band is perfect for Wedding Receptions, Fraternity Parties, Sorority Parties, Mardi Gras Balls, High School Proms, Company Parties, Fundraisers and other events. For Booking, call Music Garden today at 800-689-BAND(2263) or email by clicking on the "request more information" tab on this page.
Songlist
A Little Less Talk - Toby Keith All My Rowdy Friends - Hank Williams Jr. Anything But Mine - Kenny Chesney Constantly - Cross Canadian Ragweed Crazy Over You - Foster & Lloyd Designated Drinker - Alan Jackson Don't Break My Heart Again - Pat Green Don't Close Your Eyes - Keith Whitley Every Light In The House Is On - Trace Adkins Fast As You - Dwight Yoakum Fifteen Years Ago - Conway Twitty Foggy Mountain Breakdown - Traditional Great Balls of Fire - Jerry Lee Lewis He Stopped Loving Her Today - George Jones Hello Josephine - Van Morrison I Can't Take You Anywhere - Toby Keith I Left Something Turned On At Home - Trace Adkins If Nobody Believed In You - Joe Nichols Kansas City - Traditional Last Date - Floyd Cramer Lost and Found - Brooks & Dunn Mustang Sally - Traditional Nothing On But the Radio - Gary Allan Old Time Rock & Roll - Bob Seger Pride & Joy - Stevie Ray Vaughan Right Where I Need To Be - Gary Allan Rollin' With the Flow - Charlie Rich Rose Colored Glasses - John Conley Seventeen - Cross Canadian Ragweek Sharp Dressed Man - ZZ Top Shift Work - Kenny Chesney Sick and Tired - Cross Canadian Ragweed Some Fools Never Learn - Steve Wariner That's Why I'm Here - Kenny Chesney Troubadour - George Strait Twinkle, Twinkle Little Star - Merle Haggard Walk Softly - Kentucky Headhunters We Danced - Brad Paisley Whiskey Lullaby - Brad Paisley/AllisonKrauss Women I've Never Had - Hank Williams Jr.
View Bands with Similar Styles
Available Cities