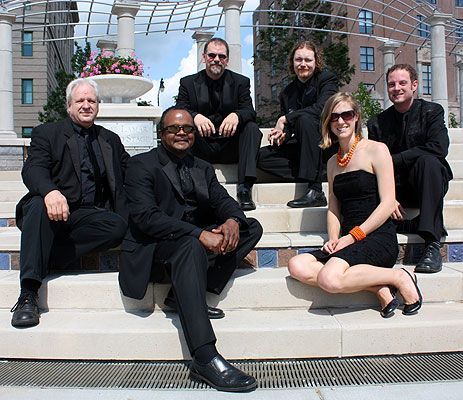 Orange Krush is Asheville North Carolina's finest party band!
This talented 6 piece band is composed of two fantastic female and male vocalists and four dynamic musician/vocalists. Having both male and female singers plus bass, drums, keys, and guitar allows Orange Krush to put on a high energy performance covering every musical style. Orange Krush creates a highly engaging and interactive experience. We pride ourselves on our ability to 'read' our audience and adjust our playlist in order to keep everyone dancing and having fun. From Cocktail Jazz to Dinner Swing, Motown to Disco, 80's to Today, Carolina cover band, Orange Krush can enhance every part of your event and entertain every guest in the room. You can relax and enjoy your wedding as all the details will be professionally handled. We will work with you beforehand to create an effective flow for your event that will help insure its success.

Orange Krush Band from Asheville, North Carolina is a high energy Cover band that plays 80's, 90's, Rock/Classic Rock, Top 40/Hip Hop, Motown and a variety of songs. This band is perfect for Wedding Receptions, Fraternity Parties, Sorority Parties, Mardi Gras Balls, High School Proms, Company Parties, Fundraisers and other events. Call or email Music Garden today at 800-689-BAND(2263).
Songlist
1999 - Prince867-5309 - Tommy TutoneA Mother's Song - T. CarterABC - Jackson 5Affirmation - George BensonAin't No Sunshine - Bill WithersAin't Too Proud to Beg - TemptationsAlice In Wonderland - StandardAll Blues - Miles DavisAll of Me - StandardAll the Things You Are - Ella FitzgeraldAlways - StandardAt Last - Etta JamesAutumn In New York - Ella FitzgeraldAutumn Leaves - Nat King ColeBack In Love Again - LTDBad - Michael JacksonBad Girls - Donna SummerBeat It - Michael JacksonBesame Mucho - Diana KrallBest of My Love - The EmotionsBillie Jean - Michael JacksonBlack Magic Woman - SantanaBless the Broken Road - Rascal FlattsBlue in Green - Miles DavisBlue Monk - Thelonius MonkBlue Moon - Billie HolidayBlue Skies - Ella FitzgeraldBoogie Oogie Oogie - Taste of HoneyBoogie Shoes - KC & the Sunshine BandBorn to be Wild - SteppenwolfBreathe - Faith HillBrick House - CommodoresBring It on Home - Little Big TownBrown Eyed Girl - Van MorrisonBuild Me Up Buttercup - The FoundationsBurning Down the House - Talking HeadsBut It's Alright - Huey Lewis & the NewsCan't Hurry Love - The SupremesCan't Touch This - MC HammerCarolina Girls - Chairmen of the BoardCarolina In My Mind - James TaylorCarwash - Rose RoyceCelebration - Kool & the GangCenterfold - J. Geils BandChain of Fools - Aretha FranklinChameleon - Herbie HancockCheek to Cheek - Armstrong & FritzgeraldChicken - Jaco PastoriusChicken Shack - Jimmy SmithChoo Choo Cha Boogie - Louis JordanCissy Strut - MetersCome Away With Me - Norah JonesConga - Gloria EstefanCrazy Little Thing Called Love - QueenCrazy Love - Van MorrisonDock of the Bay - Otis ReddingDon't Get Around Much Anymore - Duke EllingtonDont Let Me Down - BeatlesDrift Away - Dobie GrayElectric Slide - Marcia GriffithsEuropa - Carlos SantanaEverlasting Love - Smokey RobinsonEvery Night - Paul McCartneyEverybody Dance Now - C & C Music FactoryEverything - Michael Buble'Evil Ways - Carlos SantanaFather & Daughter - Paul SimonFever - Peggy LeeFields of Gold - StingFire - Ohio PlayersFirst Time Ever I Saw Your Face - Roberta FlackFly Me To the Moon - Frank SinatraFreak Out - ChicFreak Show - The Bar-KaysFree Ride - Edgar Winter GroupFunky Miracle - MetersFunky Stuff - Kook & the GangGeorgia - Ray CharlesGet Down On It - Kool & the GangGet Down Tonight - KC & the Sunshine BandGet This Party Started - PinkGet Up Offa That Thing - James BrownGimme Some Lovin - Blues BrothersGirl From Ipanema - Antonio Carlos JobinGive Up the Funk - ParliamentGood Lovin' - Young RascalsGood Times - ChicGot to be Real - Cheryl LynnGroove Me Baby - King FloydHard To Handle - Black CrowesHave I Told You Lately - Van MorrisonHeard It Through the Grapevine - Marvin GayeHey! Baby - Bruce ChannelHigher Ground - Stevie WonderHit Me with Your Best Shot - Pat BenatarHit the Road Jack - Ray CharlesHold on I'm Coming - Sam & DaveHoneysuckle Rose - Eva CassidyHot Hot Hot - Buster PoindexterHot In Here - NellyHow High the Moon - Ella FitzgeraldHow Sweet It Is - James TaylorI Don't Want to Miss a Thing - AerosmithI Feel Good - James BrownI Feel the Earth Move - Carole KingI Get a Kick Out of You - Cole PorterI Go Walking After Midnight - Patsy ClineI Hope You Dance - LeAnne WomackI Love Beach Music - The EmbersI Loved Her First - HeartlandI Wanna Love You - Bob MarleyI Want You Back - Jackson 5I Will Survive - Gloria GaynorI Wish - Stevie WonderI'm Beginning To See the Light - Ella FitzgeraldI've Got a Feeling - Black Eyed PeasIn the Midnight Hour - Wilson PickettIs this Love - Bob MarleyIs You is or is You Ain't - Louis JordanIsn't She Lovely - Stevie WonderIt Don't Mean a Thing - Louis ArmstrongIt Had to be You - Harry Connick, Jr.It's Alright - Huey Lewis & the NewsIt's Only a Paper Moon - Ella FitzgeraldJessie's Girl - Rick SpringfieldJohnny B. Goode - Chuck BerryJump - Van HalenJump, Jive, & Wail - Brian SetzerJungle Boogie - Kool & the GangJust My Imagination - TemptationsKiss - PrinceKnock Me a Kiss - Louis JordanLady Marmalade - Patti LaBelleLet the Good Times Roll - BB King & Bobby BlueblandLet There Be Love - Nat King ColeLet's Fall in Love - Diana KrallLet's Get It on - Marvin GayeLet's Get it Started - Black Eyed PeasLet's Stay Together - Al GreenLong As I Can See the Light - CCRLong Train Running - Doobie BrothersLOVE - Nat King ColeLove Her With a Feeling - Freddie KingLove Rollercoaster - Red Hot Chili PeppersLove Shack - B-52'sLucky - Jason MrazMagic Carpet Ride - SteppenwolfMargaritaville - Jimmy BuffettMilkshake - KelisMony Mony - Billy IdolMoondance - Van MorrisonMr. Magic - Grover Washington, Jr.Mr. PC - John ColtraneMs. Grace - The TymesMustang Sally - Wilson PickettMy Baby Just Cares For Me - Nina SimoneMy First, My Last, My Everything - Berry WhiteMy Funny Valentine - Billie HolidayMy Girl - TemptationsMy Guy - Mary WellsMy Lady Soul - TemptationsMy Sharona - The KnackNew York State of Mind - Oleta AdamsNo Parking on the Dance Floor - Midnight StarOh Mickey - Toni BasilOld Time Rock'n Roll - Bob SegerOn the Sunny Side of the Street - Diana KrallOnly You Can Love Me This Way - Keith UrbanOrange Colored Sky - Natalie ColePeel Me a Grape - Diana KrallPick Up the Pieces - Average White BandPink Cadillac - Bruce SpringsteenPirate Looks at Forty - Jimmy BuffettPlay That Funky Music - Wild CherryPlenty - Erykah BaduPride & Joy - Stevie Ray VaughanProud Mary - Ike & Tina TurnerRed Clay - Freddie HubbardRespect - Aretha FranklinRock This Town - Stray CatsRoute 66 - Nat King ColeSatin Doll - StandardSatisfaction - Rolling StonesSeptember - Earth, Wind & FireSex Machine - James BrownSexual Healing - Marvin GayeShake Your Body - Jackson 5Shakedown Street - Grateful DeadShe's a Bad Mamma Jamma - Carl CarltonShining Star - ManhattansShoo-Fly Pie - Anita O'DayShout - Isley BrothersSigned, Sealed, Delivered - Stevie WonderSing a Simple Song - Sly & the Family StoneSing a Song - Earth, Wind & FireSmooth - SantanaSome Kind of Wonderful - Grand Funk RailroadSomeone to Watch Over Me - Ella FitzgeraldSomewhere beyond the Sea - Frank SinatraSon of a Preacher Man - Janis JoplinSon of a Son of a Sailor - Jimmy BuffettSoul Man - Blues BrothersSpooky - Atlanta Rhythm SectionStand By Me - Ben E. KingStir It Up - Bob MarleyStormy Monday - B.B. KingStray Cat Strut - Stray CatsSultans of Swing - Dire StraitsSummertime - Ella FitzgeraldSunny - Bobby HebbSunny Side of the Street - Diana KrallSuper Freak - Rick JamesSuperstition - Stevie WonderSweet Caroline - Neil DiamondSweet Dreams - EurythmicsSweet Home Alabama - Lynyrd SkynyrdTake the A-Train - StandardTakin Care of Business - Bachman Turner OverdriveThat's the Way I Like It - KC & the Sunshine BandThe Best is Yet to Come - Frank SinatraThe Days of Wine & Roses - StandardThe Way You Look Tonight - Frank SinatraThen - Brad PaisleyThere Will Never Be Another You - StandardThese Arms of Mine - Otis ReddingThey Can't Take That Away - Ella FitzgeraldThey Love Each Other - Grateful DeadThis Business of Love - DominoThis Will Be An Everlasting Love - Natalie ColeThree Little Birds - Bob MarleyThriller - Michael JacksonTupelo Honey - Van MorrisonTurn the Beat Around - Gloria EstefanTwist & Shout - The BeatlesTwist the Night Away - Sam CookeUnchained Melody - Righteous BrothersUnder the Boardwalk - DriftersWagon Wheel - Old Crow Medicine ShowWalk This Way - AerosmithWalking on Sunshine - Katrina & the WavesWe Are Family - Sister SledgeWe Are Man & Wife - Michelle FeatherstoneWhat Are You Doing the Rest - StingWhen Doves Cry - PrinceWhip It - DevoWild Nights - John MellencampWild World - Cat StevensWill It Go Round In Circles - Billy PrestonWobble - VICWonderful Tonight - Eric ClaptonWonderful World - Louis Armstrong����� ��Word Up - CameoYeah - UsherYMCA - Village PeopleYou Are So Beautiful - Joe CockerYou are the Sunshine of My Life - Stevie WonderYou Raise Me Up - WestlifeYou Send Me - Same CookeYou Shook Me All Night Long - AC/DCYour Mama Don't Dance - Loggins & MassinaYour Precious Love - Marvin Gaye & Tammie Terrell
View Bands with Similar Styles