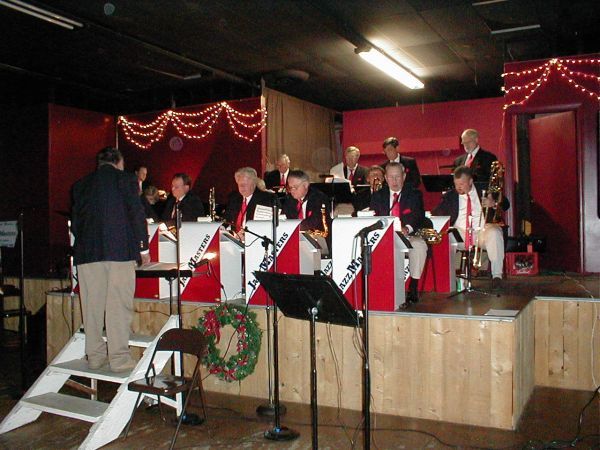 The Jazz Masters Big Band was organized in March of 2002 by James Thompson and Rush Gavin, both retired bandmasters.

The eighteen piece group is staffed with professional musicians living on or around Lake Martin and is based in Alexander City, Alabama. This is a great Alabama Jazz Band and Swing Band.

The Jazz Masters band has a repertoire of over three hundred selections, ranging from
music of the roaring 20's through the "Big Band Era" of the 30's, 40's and 50's, to broadway hits of the 60's, 70's and 80's.

Jazz Masters has performed many times around the Lake Martin area since their beginning. Some of the performances were in Montgomery, Alabama; Auburn Alabama, Sylacauga, Alabama; West Point, Georgia; Opelika, Alabama; Wetumpka, Alabama and several times in Alexander City, Alabama, including the Fourth of July Amphitheater on Lake Martin and twice at the Alex. City Annual Jazz Fest. .

Jazz Masters welcome the opportunity to play for weddings, dances, supper clubs, concerts and other special occasions.

Jazz Masters Band from Alexander City, Alabama is a high energy Jazz band that plays Swing, Jazz, Blues, Oldies/Motown and other types of music. This band is perfect for Wedding Receptions, Fraternity Parties, Sorority Parties, Fundraisers, Mardi Gras Balls and other events. Call or email Music Garden today at 800-689-BAND(2263).
Songlist
60's MedleyAin't Misbehavin' - Nat King ColeAll of Me - Various ArtistsBegin the Beguine (Swing) - Cole PorterBlue Skies - StandardChu Chu Cha Cha - The Notables Jazz BandDon't Know Why - Norah JonesEmbraceable You - Frank SinatraFly Me to the Moon - Frank SinatraFour - Miles DavisGeorgia - Ray CharlesHello Dolly - Louis ArmstrongHernando's Hideaway - Archie BleyerI Can't Get Started - Various ArtistI Feel Good (I've Got You) - James BrownIn the Mood - Glenn MillerIt Had to Be You - Frank SinatraJump, Jive & Wail - Brian Setzer OrchestraKnock on Wood - Eddie FloydLove Will Keep Us Together - Captain & TennilleMack the Knife - Bobby DarinMisty - Various ArtistsMoonlight Serenade - Glenn MillerNew York, New York - Frank SinatraOrange Colored Sky - Nat King ColeRoute 66 - Nat King ColeSave the Last Dance for Me - The DriftersSha-BoomShake Rattle and Roll - Bill HaleySomeone to Watch Over Me - GershwinStompin' at the Savoy - Edgar SampsonStranger on the Shore - Acker BilkSugar Blues - Various ArtistsTangerine - Frank SinatraTenderly - Nat King ColeTequila - The ChampsThe Girl From Ipanema - Various ArtistsThe Shadow of Your Smile - Lou RawlsThis Guy's in Love With You - Burt BacharachTill There Was You - The BeatlesTwist and Shout - Isley BrothersUndecided - Ella FitzgeraldWhen I Fall In Love - Nat King ColeWitchcraft - Frank SinatraYou've Made Me So Very Happy - Blood, Sweat & Tears
View Bands with Similar Styles