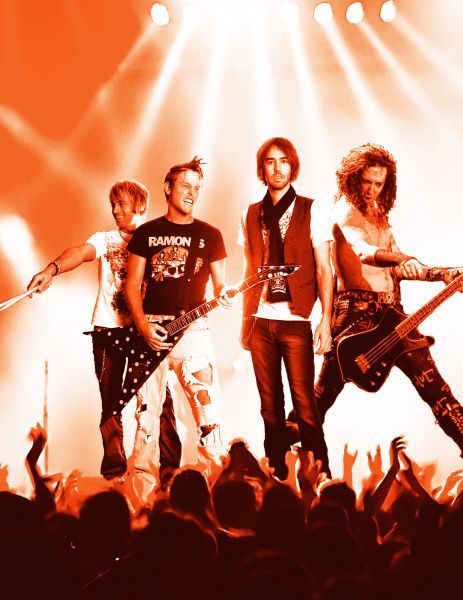 Hailing from Alex City, Alabama the Hogg Mountain Luggnuts play covers from all types of popular genres, anything from Def Leppard to Sir Mix-A-Lot, with a pop-punk aesthetic and arena style lighting and stage presence. The members of this Alabama cover band are all technically proficient and skilled musicians, but the real draw to their act is the performance. These guys serve up faithful , full-volume renditions of songs you know front to back with wild stage presence, energy, and showmanship.

Hogg Mountain Luggnuts Band from Alexander City, Alabama is a high energy Cover band that plays 80s, 90s, Rock/Classic Rock, Top 40/Hip Hop, Motown and a variety of songs. This band is perfect for Wedding Receptions, Fraternity Parties, Sorority Parties, Mardi Gras Balls, High School Proms, Company Parties, Fundraisers and other events. Hogg Mountain Luggnuts are exclusively represented by Music Garden - For Booking, call M.G. today at 800-689-BAND(2263) or email by clicking on the "request more information" tab on this page.
"When it was time to party, Amy & Corey brought in a not-so-typical band for the evening's entertainment. Their name proudly emblazened on the bass drum should not make you question-Hogg Mountain Luggnuts "these guys rocked the house! If you are looking for a band that can play pretty much any genre of music and do it better than anyone we have ever seen before these guys are the answer! Hogg Mountain Luggnuts will definitely be our first recommendation to all of my clients looking to hire a live band for their wedding reception!" Primrose - Wedding Coordinator

"We were debating for a while weather to get a band or DJ and then started thinking back on wedding I had gone to in the past. The bands are just so much fun. We booked the Hogg Mountain Lugg Nuts. HA. They are more of an 80's rock band, but can play anything you throw their way! They are awesome! They also played a friends wedding and they were great so we decided to book them." Kate Shackelford Duluth, GA
Songlist
Are You Gonna Be My Girl - JETBawitdaba - Kid RockBillie Jean - Michael JacksonBlister in the Sun - Violent FemmesBrickhouse - The CommodoresBrown Eyed Girl - Van MorrisonBulls on Parade - Rage Against MachineCalling Baton Rouge - Garth BrooksCan't Always Get What you Want - Rolling StonesCenterfold - J. Geils BandChampagne Supernova - OasisClosing Time - SemisonicCrazy Bitch - BuckcherryCrazy Train - Ozzy OsbourneDevil Went Down to Georgia - Charlie Daniels BandDon't Stop Believing - JourneyDream On - AerosmithEnter Sandman - MetallicaEvery Rose Has Its Thorn - PoisonFaithfully - JourneyFamily Tradition - Hank Williams Jr.Feel Like Making Love - Bad CompanyFight For Your Right to Party - Beastie BoysFreeBird - Lynyrd SkynyrdFriends in Low Places - Garth BrooksHands to Yourself - GA SatellitesHard to Handle - Black CrowesHarder to Breathe - Maroon 5Here I Go Again - WhitesnakeHighway to Hell - AC/DCHome Sweet Home - Motley CrueI Hate Everything About You - Ugly Kid JoeI Love Rock & Roll - Joan JettI Want You to Want Me - Cheap TrickInside Out - Eve 6Jack & Diane - John Cougar MellencampJessie's Girl - Rick SpringfieldJohnny B. Good - Chuck BerryLet's Get It On - Marvin GayeLivin on a Prayer - Bon JoviLose Your Love - The OutfieldMagic Carpet Ride - SteppenwolfMan in the Box - Alice in ChainsMountain Music - AlabamaMy Own Worst Enemy - LitNothin But A Good Time - PoisonPlay that Funky Music - Wild CherryPlush - Stone Temple PilotsPour Some Sugar on Me - Def LeppardRock & Roll All Night - KISSShe F**N Hates Me - Puddle of MuddShook Me All Night Long - AC/DCShould I Stay or Should I Go - the ClashStraight to Hell -Drivin N CryinSummer of 69 - Bryan AdamsSweet Child O' Mine - Guns N RosesSweet Home Alabama - Lynyrd SkynyrdTake Me Home Tonight - Eddie MoneyTalk Dirty to Me - PoisonTeen Spirit - NirvanaThe Joker - Steve Miller BandThing Called Love - The DarknessTo Be With You - Mr. BigWelcome to the Jungle - Guns N RosesWhat I Got - SublimeWhat's Up - 4 Non-BlondesWhen I Come Around - Green DayYou Give Love A Bad Name - Bon JoviYou Really Got Me - Van Halen
reviews
We were debating for a while wether to get a band or DJ and then started thinking back on wedding I had gone to in the past. The bands are just so much fun. We booked the Hogg Mountain Lugg Nuts. HA. They are more of an 80s rock band, but can play anything you throw their way! They are awesome! They also played a friends wedding and they were great so we decided to book them. Kate Shackelford Duluth, GA
Kate Shackelford
When it was time to party, Amy & Corey brought in a not-so-typical band for the evening's entertainment. Their name proudly emblazened on the bass drum should not make you question Hogg Mountain Luggnuts, these guys rocked the house! If you are looking for a band that can play pretty much any genre of music and do it better than anyone we have ever seen before, these guys are the answer! Hogg Mountain Luggnuts will definitely be our first recommendation to all of my clients looking to hire a live band for their wedding reception!
Primrose -Wedding Coordinator
"Our students thoroughly enjoyed them. The band was superior."
William M., Mobile, AL
"They were amazing! Such a great live act. Fun and great singers."
Kourtney S., Atlanta
View Bands with Similar Styles