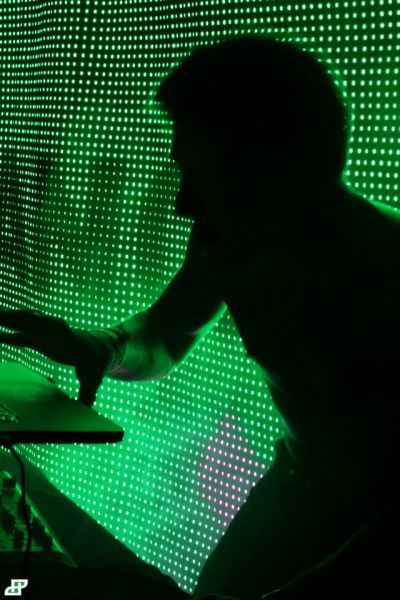 5 & A Dime is a DJ, Mash-Up Artist, and Producer from the Philadelphia area. Through his unique mixing and mashing of all styles of mainstream music including Top 40, Hip Hop, House, Electro and Dubstep, he has created a sound all his own. His high-energy performance consists of live mixing and is visually accentuated by his 16 x 6 foot tall LED light show.

On the strength of the recent #BASSMOB tour, 5 & A Dime has created some serious waves in the college market in 2011. He released the mash up album "Ear Candy" in April, which received over 50k downloads in its first two weeks. In the summer of 2011, 5 & A Dime released the single "Skrillmau5" which was able to clinch the #1 spot on Hype Machine, an aggregator of the best songs from over 800 music blogs of all different genres. Throughout the fall of 2011, 5 & A Dime was on a national tour, performing at over 35 colleges opening for major artists like Wiz Khalifa as well as Super Mash Bros and was even featured on Barstool Sport's "Blackout Tour". In late October, 5 & A Dime released his first official music video and within a month the YouTube hit 100k views. The year was also marked with the release of his third album, "#BASSMOB" which had over 75k downloads in its first two weeks.

2012 started off with a bang, as 5 & A Dime headlined a NYC New Year's Eve event in the prestigious Angel Orensanz Building rocking out a sellout crowd of over 700 people! Only a few days later did 5 & Dimes collab with Basic Physics reach #2 on Hype Machine with their single "Filth in Paris". As 2012 rolls on, you will see 5 & A Dime venture into the international scene, performing early in the year in Calgary, Canada while still throwing down hard at colleges throughout the U.S. Also be on the lookout for substantial growth in his production, with 5 & A Dime venturing into remixes and original production. 5 & A Dime and his #BASSMOB movement will for sure be a force to reckon with both in the college market and international EDM scene throughout the rest of 2012 and into 2013!

5 & A Dime Band from Philadelphia, Pennsylvania has been a fantastic DJ and is perfect to headline or support your festival, concert, college party, University event, fraternity party or other events! Call today 800-689-BAND(2263) or click on the more information tab to email.

Philly native 5 & A Dime is known for creating some unique and interesting content, but I don't think anyone saw this coming. The dj/producer is back introducing a new way to create and perform music, putting together something that has the potential to shake the foundation of music creation as we know it.

In the video 5 & A Dime not only showcases his talents with production but also with his feet. You can see him performing on a DDR-Launchpad playing a mashup of his, entitled "Damn I Feel Amazing." The launchpad is synced to the music in a way where every time his feet hit a pad it produces a piece of the song, so essentially he is performing the whole track live with his feet. Here is a quote from the man himself explaining more of what went into the project:

"This project is a hybrid between a Launchpad and DDR pads connected via MIDI into Ableton triggering several drum racks worth of samples. It then sends a visual MIDI signal to the 3D projection 1:1 scale model behind me showing which buttons I am hitting with my feet. The 3D projection technology is the same that artists like Excision and Eric Prydz use during their shows. It can also be linked up to any LED wall or projection system. As a little background, I was the former world champion of DDR Extreme (8th Mix)."

So as you can tell, 5 & A Dime is no stranger to DDR and there is no doubt that he has truly impressed us with this unique way of musical performance. We already knew of his talents in production, and now it seems like we also have found that he can rip it on a DDR pad also!
Songlist
- Not Available Online - Contact Us for Song List