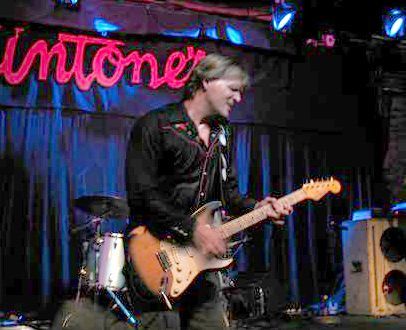 Trent Turner started playing blues while attending medical school in San Antonio in the mid 90's. Trent Turner and the Moontowers Band have been a band since 2002. The band is from Austin Texas and plays there for fraternity parties and college campus nightclubs weekly. Incredible live show!

"My name is Trent Turner. I am a guitar player and singer and writer of songs from Austin, TX. My music is built on 6 years of playing my heart out on my guitar for 4 hour gigs in the clubs of Austin. I pour my heart through my guitar. If you listen to me play you will know who I am down deep inside.

My music is largely blues based, but most of the songs I write do not follow a 12 bar blues progression. My music, topically, centers around matters that are important to me - such as my son, love, life observations in general, etc.. Instrumentally it is very centered around intense expression of myself through my guitar. When I play guitar I lose myself in the energy I put out to the audience, and the energy they give back to me. Sometimes when the feeling calls for it, I play in unique ways (with my tongue, or behind my back). What sets me and my band apart from other bands is that I truly play every song like my life depends on it, as though I would die if I didn't. My primary influences are blues greats of the past (Stevie Ray Vaughan, BB King, Howling Wolf, Buddy Guy) as well as the Beatles and the Rolling Stones. I don't do this for money (I have a good career outside of music as I am also a doctor in an Austin area Emergency Room - I actually taught myself to play in medical school and used to carry my guitar to patient rooms and play for them). I do this because music is my passion. I have it in me and I have to bring it out to share."

For Booking, call M.G. today at 800-689-BAND(2263) or email by clicking on the "request more information" tab on this page.
Songlist
- Not Available Online - Contact Us for Song List
View Bands with Similar Styles