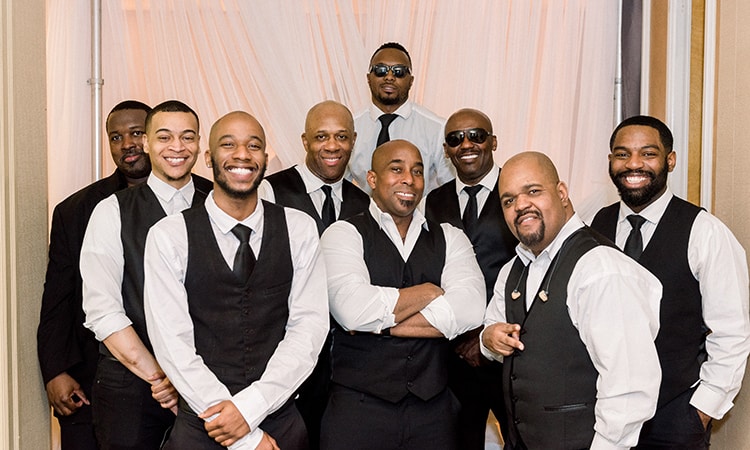 As if being possibly the South's best wedding reception band weren't enough, Az IzZ now is gaining worldwide attention through a mention in People magazine.
And mention might be too mild of a word as the Atlanta-based cover band also received a glowing review from a bride intimately connected to the music industry.
Az IzZ "did an amazing job of getting our guests on the dance floor," gushed bride Millie Chapman, daughter of Christian-crossover legend Amy Grant and her first husband, Gary Chapman.
You might know Millie as the inspiration for her mother's 1991 smash hit "Baby Baby," which went to No. 1 on the Billboard 100 chart and proved to be her biggest pop hit as a solo artist.
Now, all grown up, Millie married Ben Long on April 27 in Nashville, and the family hired Az IzZ to perform at the wedding reception. The reception was held on the back lawn of the home Amy Grant shares with her husband Vince Gill.
That this family of musical fame would choose to bring Az IzZ from its home base in Atlanta into the country music capital speaks volumes about the respect this band commands.
Georgia and Beyond
Az IzZ has built a following over the years as one of the best live dance bands in Georgia but continues to expand its reach and reputation having shared the stage with dozens of celebrities. The band features a number of front men and can add female singers and horns upon request.
Previous clients have expressed their appreciation for the band's ability to take a quick read of the audience and adapt the music to keep the joint jumping all night.
Az IzZ offers a repertoire that spans from jazz and swing standards (think cocktail hour) to Motown to '80s and '90s to current top-40 hits, and many styles in between.
You don't have to be a celebrity to hire Az IzZ for your wedding reception, either. The band is willing to travel outside Georgia, and in fact has a goal to become the top wedding reception band in North Carolina and South Carolina over the next few years.
The band has performed in many elite venues, including Sea Pines in Hilton Head, S.C.; Boone Hall in Mount Pleasant, S.C.; Old Edwards Inn in Highlands, N.C.; The Biltmore in Asheville, N.C.; King's Ranch in Texas; and Watercolor Inn in Watercolor, Fla., as well as Amy Grant and Vince Gill's backyard.
Rave Reviews
Millie Chapman isn't the only satisfied bride to offer rave reviews of Az IzZ.
Jana K. of New Orleans, another city that knows its music, had this to say: "They were amazing. Everyone loved them. Our friends booked them that night for their wedding. They were the hit of the wedding."
Deborah and Stephen Y. of Austin, Texas, loved every aspect of the band but especially appreciated how they appealed across generations: "We were thrilled when most of the 'older' guests stayed alongside our more youthful guests to the very, very end. It was truly wonderful!"
Book Az IzZ for Your Event
If Az IzZ sounds like the kind of live band you've dreamed about for your wedding, wedding reception, rehearsal party or any other special event, contact Music Garden today to learn if the band is available on your date. After all, with the fame of a People magazine appearance, dates will be booking fast.
Then get busy thinking about the kind of musical set that is sure to keep your guests packing the dance floor and talking about what a fantastic wedding celebration you threw for years to come.