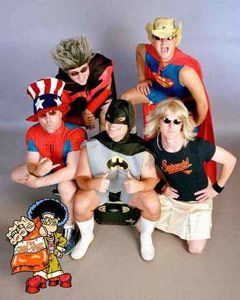 THE MOST FUN, EXCITING, WILDEST, TALENTED & BEST BAND IN THE LAND!
Over the last decade, thousands of club goers, festival fans, corporate planners, wedding and private event shows have tapped into the Most Requested Music Act in the region - The Chee-Weez. Creating an explosive stage show and legions of new fans - young and old - everywhere they play across America, The Chee-Weez inject your event with the emotional and professional experience unlike anything you've seen or heard. With classic rock, pop, hiphop and standards weaved into thier set lists, you'll find no excuse for loving what the New Orleans-based band is all about. The Chee-Weez are headliners and headturners par excellence. With over 250 appearances each year at premier level venues, fests and events across the U.S., this band has developed the reputation as the "go to" group that will have you on your feet and screaming for more. One thing is certain; this band dishes up the ultimate show experience wherever they perform. One of your favorite Louisiana cover bands!

Chee-Weez Band from New Orleans, Louisiana is a high energy 80s band that plays 80s, 90s, and Glam Rock. This band is perfect for Wedding Receptions, Fraternity Parties, Sorority Parties, Mardi Gras Balls, High School Proms, Company Parties, Fundraisers and other events. Call or email Music Garden today at 800-689-BAND(2263).
Songlist
99 Red Balloons - NenaBasket Case - Green DayBawitdaba - Kid RockBoogie Shoes - KC & the Sunshine BandBreak Stuff - Limp BizkitBrick House - CommodoresCarry on My Wayward Son - KansasCenterfold - J. Geils BandCome Sail Away - StyxDevil Went Down To Georgia - Charlie Daniels BandDisco Medley - From the Movie SelenaDon't Stop Believing - JourneyDon't You Forget About Me - Simple MindsDon't You Want Me - Human LeagueDown - 311Epic - Faith No MoreEverything About You - Ugly Kid JoeEye Of the Tiger - SurvivorFootloose - Kenny LogginsGive It Up - KC & the Sunshine BandGood Times - ChicHella Good - No DoubtHere I Go Again - WhitesnakeHighway To Hell - AC/DCHit Me With Your Best Shot - Pat BenatarHome Sweet Home - Motley CrueHurt So Good - John MellencampI't's Tricky - Run DMCJack And Diane - John MellencampJessie's Girl - Rick SpringfieldJoy To the World - Three Dog NightJump - Van HalenKeep Your Hands To Yourself - Georgia SatellitesKung Fu Fighting - Carl DouglasLady - Little River BandLivin' On A Prayer - Bon JoviLove Stinks - J. Giles BandLovin', Touchin', Squeezin' - JourneyMan I Feel Like a Woman - Shania TwainMr Roboto - StyxMy Own Worst Enemy - LitOh Sherry - Steve PerryOnly the Good Die Young - Billy JoePanama - Van HalenPiano Man - Billy JoelPlay That Funky Music - Wild CherryRebel Yell - Billy IdolSeparate Ways - JourneyShake Your Booty - KC & the Sunshine BandShe Hates Me - Puddle of MudSister Christian - Night RangerSunglasses At Night - Corey HartSweet Caroline - Neil DiamondSweet Child O' Mine - Guns N RosesTainted Love - Soft CellTalk Dirty To Me - PoisonThat's the Way (I Like It) - KC & the Sunshine BandThe Anthem - Good CharlotteWake Me Up Before You Go-Go - WhamWanted Dead Or Alive - Bon JoviWhat I Got - SublimeWhat's Up - 4 Non BlondesWild, Wild West - Escape ClubWorking for the Weekend - Loverboy
View Bands with Similar Styles
Available Cities
Mobile Alabama
Fairhope Alabama
Destin Florida
Panama City Florida
Pensacola Florida
Rosemary Beach Florida
New Orleans Louisiana
Baton Rouge Louisiana
Lake Charles Louisiana
Lafayette Louisiana
Shreveport Louisiana
Alexandria Louisiana
Monroe Louisiana
Jackson Mississippi
Hattiesburg Mississippi
Natchez Mississippi
Biloxi Mississippi
Vicksburg Mississippi
Dallas Texas
Houston Texas
Austin Texas
San Antonio Texas
Beaumont Texas
Tyler Texas