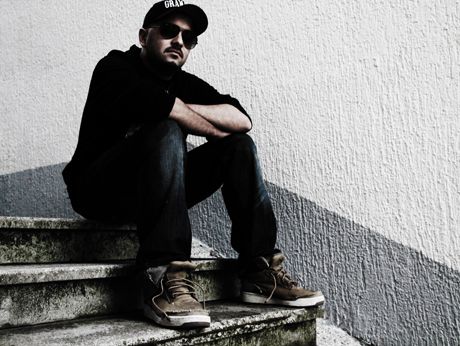 Gramatik has always been an early adopter. It began at the age of 3, when his mother would catch him glued to the radio in his older sister's room, checking out the cassette tapes with American funk, jazz, soul and blues. He started making his first beats on an early PC by the time he was 13, and soon the kid from Portoroz, Slovenia figured out how to harvest the power of free file sharing to build a following throughout the US & Europe. Tracks spread, hype grew, tours followed, and before long his digital persona forged the initial inroads into the US market, landing him both a label and an agency. Gramatik landed on US soil as a fully formed artist who knows how to do things his way. He signed to a label, Pretty Lights Music, that gives all of its music away for free, which went hand in hand with his own philosophy about ''freeing music by making music free''. Soon after, he scooped up his hometown crew and moved to Brooklyn, NY. Alongside Gramatik, the multimedia collective known as Dream Big features guitarist and producer F.A.Q, video director and filmmaker Anze Koron and graphic and web designer Martin Kenjic, with whom he has been friends since they were kids, sitting in a small town on the Adriatic coast, dreaming of breaking out into the wide world beyond. Now's the time.Of his new record #digitalfreedom Gramatik says, "My new EP bares the title #digitalfreedom. As an artist that based his entire career on the platform of free file sharing, I'm dedicating it to the fight against severe internet censorship bills we've been hearing about so much in the past months. Bastards have been trying to cripple the internet on a global scale with bills like ACTA/SOPA/PIPA and I'm sure there's more of them coming, so this one goes out for spreading awareness! Reject them all, they will never stop the sharing, the Internet is our realm, DIGITAL FREEDOM!"With over 100,000 tracks sold on Beatport.com, topping all kinds of genre charts, Gramatik has clearly matured into a world-class producer. He earned nominations for "Best Chill Out Artist" and "Best Chill Out Track" at the 2010 and 2012 Beatport Music Awards. More recently, after posting a clever remix of Zeppelin's "Stairway to Heaven", he shot to number 1 on HypeMachine in a matter of hours, and has been since appearing in the site's 'popular' top 10 chart with every new release. Within the US, it's been a huge year of growth for Gramatik, performing at festivals across the US and alongside labelmate Pretty Lights, including epic sold out shows at Red Rocks. This summer promises even more high-profile appearances, including gigs at Lightning in a Bottle, Wakarusa, Electric Forest, Camp Bisco, Wanderlust and many more. For booking Gramatik for College events including fraternity parties, campus clubs, university program events, IFC events, and other University parties , please call or email Music Garden today!
View Bands with Similar Styles
Available Cities
Montgomery Alabama
Birmingham Alabama
Tuscaloosa Alabama
Huntsville Alabama
Mobile Alabama
Dothan Alabama
Fairhope Alabama
Troy Alabama
Little Rock Arkansas
Eureka Springs Arkansas
Aspen Colorado
Vail Colorado
Steamboat Springs Colorado
Crested Butte Colorado
Denver Colorado
Colorado Springs Colorado
Bethany Beach Delaware
Rehobeth Beach Delaware
Destin Florida
Panama City Florida
Pensacola Florida
Tallahassee Florida
Jacksonville Florida
Rosemary Beach Florida
Orlando Florida
West Palm Florida
Port Saint Joe Florida
Amelia Island Florida
Atlanta Georgia
Savannah Georgia
Macon Georgia
Columbus Georgia
Dalton Georgia
Albany Georgia
Valdosta Georgia
Jeckyl Island Georgia
Saint Simons Georgia
Augusta Georgia
Louisville Kentucky
Lexington Kentucky
Bowling Green Kentucky
New Orleans Louisiana
Baton Rouge Louisiana
Lake Charles Louisiana
Lafayette Louisiana
Shreveport Louisiana
Alexandria Louisiana
Monroe Louisiana
Baltimore Maryland
Ocean City Maryland
Cape Cod Massachusetts
Martha's Vineyard Massachusetts
Jackson Mississippi
Hattiesburg Mississippi
Meridian Mississippi
Oxford Mississippi
Starkville Mississippi
Natchez Mississippi
Biloxi Mississippi
Columbus Mississippi
Vicksburg Mississippi
Wildwood New Jersey
Cape May New Jersey
Highland North Carolina
Asheville North Carolina
Charlotte North Carolina
Fayetteville North Carolina
Raleigh North Carolina
Wilmington North Carolina
Greensboro North Carolina
Outer Banks North Carolina
Bald Head Island North Carolina
Newport Rhode Island
Providence Rhode Island
Charleston South Carolina
Columbia South Carolina
Greenville South Carolina
Myrtle Beach South Carolina
Hilton Head South Carolina
Florence South Carolina
Nashville Tennessee
Memphis Tennessee
Chattanooga Tennessee
Jackson Tennessee
Knoxville Tennessee
Fayetteville Tennessee
Cleveland Tennessee
Gatlinburg Tennessee
Dallas Texas
Houston Texas
Austin Texas
San Antonio Texas
Beaumont Texas
Tyler Texas
Virginia Beach Virginia
Newport News Virginia
Hampton Virginia
Richmond Virginia
Orange County Virginia
Chesapeake Bay Virginia
Washington D.C.
Chapell Hill North Carolina
Raleigh North Carolina
Burlington North Carolina
Jamestown North Carolina
Charlottesville Virginia
Roanoke Virginia
Woodbridge Virginia
Greenwood South Carolina
Camden South Carolina
Johns Islend South Carolina
Red Bank New Jersey
Sea Girt New Jersey
Keyport New Jersey
Pitman New Jersey
Seattle Washington
Olympia Washington
Salem Oregon
Sacramento California
San Francisco California
Los Angeles California
San Diego California
San Jose California
Las Vegas Nevada
Carson City Nevada
Boise Idaho
Phoenix Arizona
Tuscon Arizona
Helena Montana
Salt Lake City Utah
Cheyenne Wyoming
Boulder Colorado
Santa Fe New Mexico
Lincoln Nebraska
Topeka Kansas
Oklahoma City Oklahoma
Des Moines Iowa
Jefferson City Missouri
Kansas City Missouri
St Louis Missouri
Fayetteville Arkansas
Springfield Illinois
Chicago Illinois
Humboldt Illinois
Madison Wisconsin
Indianapolis Indiana
New Albany Indiana
Harrisburg Pennsylvania
Philadelphia Pennsylvania
Bethlehem Pennsylvania
Norristown Pennsylvania
Columbus Ohio
Canton Ohio
Toledo Ohio
Cincinnati Ohio
Lansing Michigan
Detroit Michigan
Charleston West Virginia
Huntingdon West Virginia
New York City New York
Manhattan New York
Buffalo New York
Albany New York
Syracuse New York
Brooklyn New York
Rochester New York
Patchogue New York
Coral Gables Florida
Sarasota Florida
Daytona Beach Florida
Fort Myers Florida
Fort Lauderdale Florida
Naples Florida